Cape Motorsports with Wayne Taylor Racing teammates Aaron Telitz and Nico Jamin split victories at Barber Motorsports Park.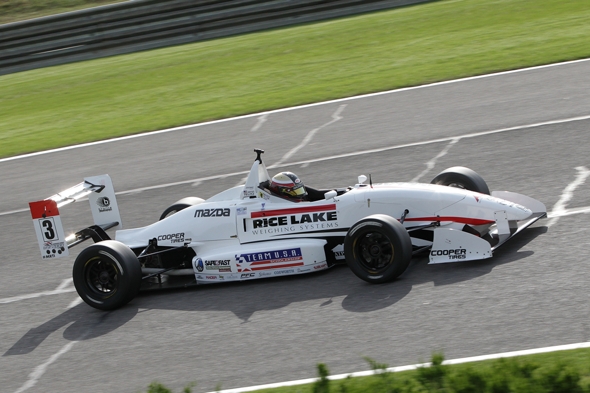 It was a weekend to remember for Cape Motorsports with Wayne Taylor Racing as it swept both Cooper Tires USF2000 Championship Powered by Mazda races at Barber Motorsports Park in Alabama.
irst, Aaron Telitz produced a stunning performance to earn his victory in the first race of the weekend. Victor Franzoni finished second for Afterburner Autosport after leading most of the race, while Jake Edison extended his championship lead to 18 points, 130-118 over Telitz, after taking third for Pabst Racing.
Telitz, from Birchwood, Wis., started fourth and moved up one place on the opening lap when teammate Nico Jamin tangled with Franzoni in Turn 2. The pole winner came off worst as his Van Diemen-Mazda ended up in the gravel and out of the race. Telitz then ran third for the majority of the 20-lap, 30-minute contest, in the wheel tracks of Franzoni and Eidson.
Telitz made his first impressive move on Lap 18, diving to inside of Eidson under braking for Turn 5 to move into second place. One lap later he pulled off an even more audacious maneuver by pulling alongside Brazilian rival Franzoni under braking for the same turn – this time on the unfavored outside line. To his credit, Franzoni kept it clean and Telitz kept his nerve to take the lead and edge away over the final two laps to earn his first win of the season. The victory brought welcome redemption after losing the lead just two weeks ago at NOLA Motorsports park due to a drive-shaft failure. Telitz also secured the RePlay XD Move of the Race Award.
If Telitz provided the drama in the first race, in the second it was the weather. Delayed by thunderstorms, the race was run in wet conditions; but that didn't seem to faze Jamin one bit. The 19-year old from Rouen, France, made it look easy as he romped clear from the start and pulled away with every lap. Even though his advantage twice was slashed to nothing by full-course cautions due to a couple of cars sliding off the road and being stranded in the gravel, Jamin remained unflustered. He even found time to reset fastest lap of the race in a green/white-checkered one-lap dash to the finish. His eventual margin of victory was 1.1751 seconds.
Australian rookie Anthony Martin drove an impressive race for John Cummiskey Racing with a late pass on championship leader Eidson to take second place and secure his first podium finish.
Eidson leads the points standings after five races, 152 to 141, over Jamin as the series and the rest of the Mazda Road to Indy head to Indianapolis.