Today, our weekly series of blogs features Mazda Prototype driver Joel Miller, who is also a mechanical engineer with the factory Mazda team, SpeedSource. Hailing from Hesperia, California, this week's Long Beach Grand Prix brings Miller very close to home, and he tells us how much this event means to him.
"This is where the Big Cars race."
That's what my grandpa told me about the Grand Prix of Long Beach when I was a young boy.
I grew up in Hesperia, California, so Long Beach is my hometown race during the IMSA TUDOR United SportsCar Championship season. When people ask what the event means to me, many thoughts, memories, and dreams come to mind. But, if I had to pick one, it would be "this is where the big cars race."
For many years, the track at Riverside was the place to go in Southern California for road racing. But I was born in 1988, and the track closed in '89. Roger Penske built the speedway at Fontana in 1997, so during my early childhood, Long Beach was it. As a young kid who got his first go kart at age six, you'd better believe I wanted to race against the best there one day. However, for nine years, the local karting tracks always scheduled races on the same weekend, so I was never able to go to the Grand Prix because I was racing myself! (I never quite figured out why the organizers did that.)
I was finally able to go to the race in 2004, when I was racing karts on an international level and beginning my transition into cars. The Grand Prix that weekend is where my passion for open wheel racing was affirmed. My first experience standing on Shoreline Drive watching a ChampCar fly by and into Turn 1 also confirmed what I had long wanted to do: I wanted to win Long Beach.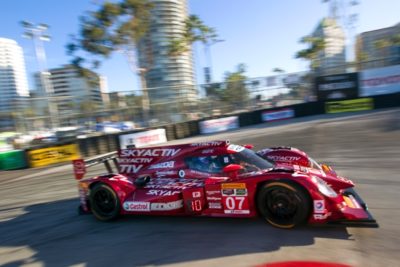 The best motorsport ladder system around has brought me back to Long Beach this week as one of the drivers for Mazda's SKYACTIV Prototype program. We continue the extensive SKYACTIV diesel development, as our program is doing something no other manufacturer has been able to do with a production-based engine block.
Long Beach presents a different approach than the first two events of the year, which were round-the-clock endurance events. We will exchange hours of racing for a 100-minute street fight in a concrete canyon. Our cars produce a large amount of torque, so one of the focal points for us will be traction as we put the pedal down exiting the corners. I have full confidence in our simulation engineers to provide a good starting point, and cannot wait to get down to business at the track. I am ready, my team is ready, and we will be ready when the opportunity presents itself.
If you are at the track early Friday or Saturday morning, you may catch me walking down pit lane prior to any on track running. I love what I do, living the dream as they say, and I'm ready to go drive 'The Big Cars' for my team at Long Beach.
To all the readers, feel free to reach out with suggestive future blog topics as we will be doing this every Thursday. Twitter: @mazdaracing or @joelmilleracing