Our weekly series of blogs from inside Mazda Motorsports continues with a very personal story of passion from 19-year old Tristan Nunez, the youngest driver on the Mazda Prototype team. Read a new entry here every Thursday.
"Passion is the one thing that will push you beyond what your body and mind ever thought would be possible."
That is a quote from my father that has stuck with me since I was eight years of age.
As a young boy, I seemed destined to be a professional tennis player. Tennis was in my blood. My father played on the pro tour, took a set off of John McEnroe at the US Open and then coached players like Gabriella Sabatini, Chris Evert, and Arantxa Sanchez-Vicario. My life path was to go the tennis route, and as a kid I was all for that – as any naive boy would do when they see the success of their father.
My twin brother and I always had a huge rivalry, as any siblings would. He was always one step ahead of me. A faster serve, a better backhand and moved around the court like Roger Federer. But it wasn't his game that gave him that edge: it was his passion for the sport that I never had. Throughout my time playing tennis, I never won a tournament. As an eleven-year-old kid, I was lost. I was talented, but I didn't have the love or passion for it. The visions I had of playing in the US Open or Wimbledon faded away quickly.
After long days of being on the tennis court and dreading every second, I always looked forward to coming home and spending my night (after I finished my homework), watching endless amounts of racing videos. That was what kept me sane. I always had a love for cars and racing, and I would watch racing with my dad on the weekends. But I became obsessed with the sport after my father showed me a video of an onboard lap with Derek Bell at the legendary Le Mans Circuit in the Porsche 956 Prototype car. I had seen the video numerous times, and as usual I watched it all the way through. The news on the other hand put me in shock. My father informed me that Derek Bell would be bringing his younger son to our tennis academy. A feeling of happiness I can't even describe to this day struck me. I couldn't sleep that night because of how excited I was for the next day.
As I approached the club, I heard a sports car pull up. I knew exactly who it was. A tall man with long blonde hair walked up to the club with his younger son. It was a dream come true. I didn't know it at that moment, but my life was about to change forever. I may have been dressed in tennis clothes and had a racquet in my hand, but I didn't step on the court at all that day. I spent hours talking with Derek, hearing his stories about his career, and my favorites were those of Le Mans. I was absolutely star struck. After many conversations, he urged me to try karting. After Derek spent some time convincing my parents to allow it, I was soon in a kart at my very first race.
I was sick to my stomach. I had never been so nervous in my life, especially before any tennis match. It was a 25-lap race, and I was not nearly fit enough to go the distance. (The most laps I had done in a kart before that was 15 laps.) I started fifth out of 20 competitors. Around the halfway point, my breathing was heavy and fast, my heart felt like it was going to burst out of my chest and my arms were past the point of exhaustion. I was in more pain than ever – even more than my longest tennis match in the blazing sun. But I saw those competitors ahead of me, and I pushed beyond what I thought my body was capable of. With five laps to go, I took the lead of the race. The pain I was feeling became numb, and I rounded the last corner to take the checkered flag. My first ever taste of victory, and I knew at that moment what passion felt like and what my passion really was.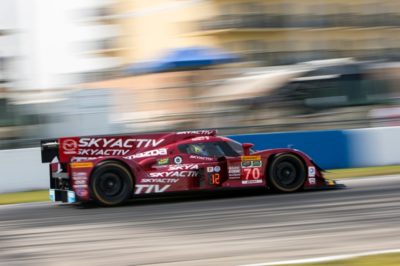 I get asked, "What is the best part about working with Mazda?"It's a simple answer: I get to do what I'm passionate about every day, alongside individuals who share the same burning passion. This goes from my co-drivers to the engineers and every single crew member. The energy inside the garage and in the shop is extraordinary. With this passion, we as a team have made miracles happen, and accomplished what seemed to be impossible. "Never stop challenging"is one of Mazda's famous mottos. It is inscribed on the back of my helmet and is engraved on a dog tag I wear around my neck every day. It's a quote I live by, and it's three simple words that everyone at Mazda knows in their heart.