Number 6 in a countdown. Education doesn't stop once you're strapped in; there is something to learn at every stage of a racing weekend.
The great basketball coach John Wooden is credited with saying, "It's what you learn after you know it all that counts." The coach who led UCLA to 10 NCAA National Championships likely worked with a few players who thought they knew it all. Then they learned a few things more.
Learning is a never-ending process. If you've ever watched the onboard of Ayrton Senna's amazing qualifying lap at Monaco in 1988, you'd think there isn't the tiniest fraction of a second left to be found. He got everything out of the car and the track. Any bets on what Senna might have thought watching that same lap? He probably saw a spot or two where he lost some time.
And that's where being a student at the track comes in. In the other parts of this series we've discussed doing your homework – reading, analyzing data and preparing for specific tracks with simulations and video. You're prepared when you arrive at the track, but you also know that your first few laps won't be your fastest. You'll discover something in the setup, try a different line through a corner, see something in the data that doesn't look correct or smooth. You are being a driving student at the track.
"Being a student at the track is vital to developing or maintaining as a driver," says Tom Long, driving coach and driver of the No. 07 Mazda SKYACTIV Prototype in the TUDOR United SportsCar Championship. "No matter what role, from driver to mechanic, constantly evolving to absorb new information is a critical task. The drivers that are at the front of the grid certainly don't think they know everything, or the smart ones at least. Reviewing data, video, in depth conversations with their engineer/team, are all part of that development process to either get you to the next level, or keep you at that level. The minute your stagnate is the minute you start to fall back."
So how does one be a student at the track? The pros offer a few suggestions but, as with good students everywhere, it all begins with questions.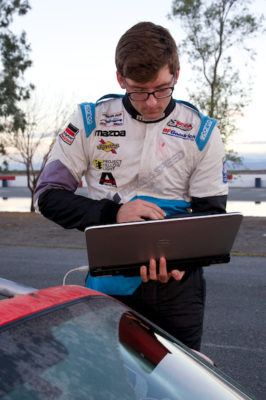 Most any racer at the club level is happy to answer questions (they may balk if you ask them for their setup numbers, but your mileage may vary). Especially if you're just out of driver's school, they're usually all too eager to help, because more, happier racers is better for everybody. People that have been doing this for a while know what works and what doesn't. They can tell you which parts are reliable and which aren't. Learning from your own mistakes is one way to make sure you don't forget a lesson; but learning from someone else's errors is a lot less painful.
Sometimes you don't have to ask the question. Sometimes all you have to do is observe. Are you paddocked next to someone you admire? Someone that is always at the sharp end of the grid and on the podium? Watch the way they do things. Chances are they have a system that makes sure they are ready long before the call to grid. Their methodology could be the cure for your madness.
Finally, learn from yourself. Review your onboard video (we don't still need to tell you to have a camera, do we?) and your data (ditto) after every session. You may find that missing tenth you need to go move up from mid-pack to the front.
Being a student away from the track will get you a long way toward being fast and performing well in the races. Without continuing your studies once you've arrived at the track, though, your education is far from complete.
Related Content:
Be the Complete Racer: Choices
Be the Complete Racer: Fitness
Be the Complete Racer: Study
Be the Complete Racer: Seat Time