Front and rear tow hook set for Miatas mean secure transport out of the gravel trap.
Tow hooks aren't the most anticipated purchase when building a race car. They won't make the car faster, they don't make it look better. But they are required by the rules, and you'll sure be glad to have them if you get punted off into the sand.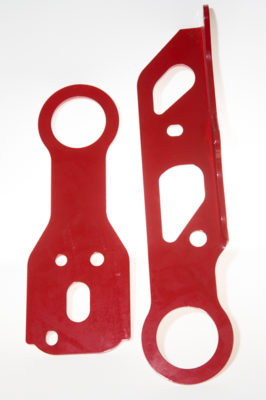 Mazda Motorsports sells two tow hook sets for Miatas, depending on whether you have the NA or NB version. While tow hooks aren't glamorous, you want them to be sturdy and look as good as possible. These are built by reputable manufacturers and come with a red powdercoat, so you know they fit the bill on both counts and will be easy to spot by the emergency services crew.
The tow hook set for the NA Miata, 1990-'97 model years (both 1.6- and 1.8-liter engines)
Part no. 0000-04-5998; price: $46.90
The set for the NB, 1999-2005
Part no. 0000-04-5990; price: $44.50
Call 800.435.2508 or log in to order yours today.