Atlanta Motorsport Group signs Mazda Club Racer Shootout winner as the 2015 Idemitsu Mazda MX-5 Cup Presented by BFGoodrich® Tires opens its season at Sebring.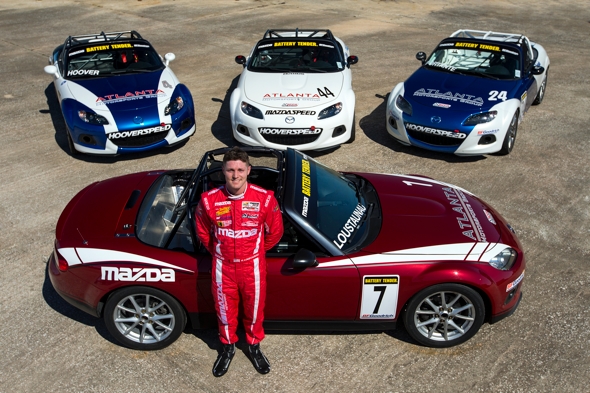 Kyle Loustaunau from Vacaville,Calif., leads the lineup for Atlanta Motorsports Group in the SCCA Pro Racing Idemitsu Mazda MX-5 Cup Presented by BFGoodrich® Tires. Loustaunau won a $100,000 Mazda Scholarship by winning the 2014 Mazda Club Racer Shootout after having won the 2014 NASA Western States Spec Miata Championship.
The Mazda Club Racer Shootout is the single largest prize in club racing. Since 2007 Mazda has annually promoted one talented club racer to the professional ranks. A record 22 racers were entered in the 2014 shootout, having met the eligibility criteria by winning a recognized championship over a minimum number of competitors. Kyle won the winner-take-all competition to earn the scholarship.
Loustaunau chose Atlanta Motorsports Group because of its drive for championships. The team won three consecutive Mazda MX-5 Cup championships in 2009-'11. In 2012, with Mazda MX-5 Cup champion driver Michael Cooper, the team won the Pirelli World Challenge Touring Car Championship in a MAZDASPEED3. Team owner Jason Hoover stated that he is excited to have Kyle on the team, noting that he brings with him the whole package – speed, patience and a willing to further his craft.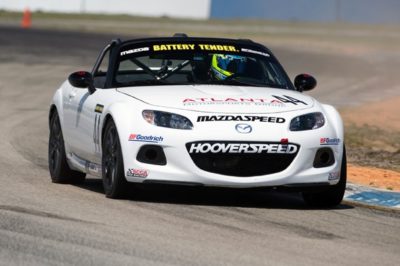 Loustaunau isn't the only Mazda scholarship winner on the team; Patrick Gallagher is in his third season of MX-5 Cup after he won the 2012 club racer shootout. Finally, open-wheel ace Peter Portante moves over from the USF2000 Championship and joins Sebastian Landy to complete the team.
Sebring hometown favorite Sick Sideways has a scholarship driver of its own in Drake Kemper. Team Principal John Dean has to be considered a favorite for the title, having finished second in the 2014 championship behind Kenton Koch. Nathanial Sparks completes the Sick Sideways trio.
ALARA Racing will bring a fleet of 10 cars to MX-5 Cup in 2015, led by longtime competitor Ara Malkhassian. Devin Jones, who had a fairly successful rookie season last year, is also competing with the team. Joining them will by Sarah Montgomery, Timothy Paul, Zach Lee, Tim Probert, Brent Mosing, and Harrison Williams.
McCumbee McAleer Racing, running as ModSpace Racing, will field cars for series veteran Charles Paquin, Nick Igdalsky and Aurora Straus.
Dean Copeland leads the final multi-car team, a two car effort with Hernan Palermo. Beth Chryst and Christian Tetzlaff will field single-car efforts at Sebring.
Seven drivers are scheduled to start the season in the Skip Barber MAZDASPEED PRO Challenge, including Sam Adams, who will be using scholarship money from winning last year's Summer Series. Bryan Hixon returns to the series that runs alongside MX-5 Cup in similar cars, as does Ben Albano. Nikko Reger, Robby Foley, Kieron O'Rourke and Chris Beaufait are also expected to take the green at Sebring.
As at every round in 2015, Sebring will feature two Idemitsu Mazda MX-5 Cup races as a prelude to the 12 Hours of Sebring, with races on both Thursday and Friday morning. Gallagher and Paul took the poles for those races on Wednesday afternoon.