Cooper Tires Winterfest double victory at NOLA Motorsports Park means he carries the lead into Barber.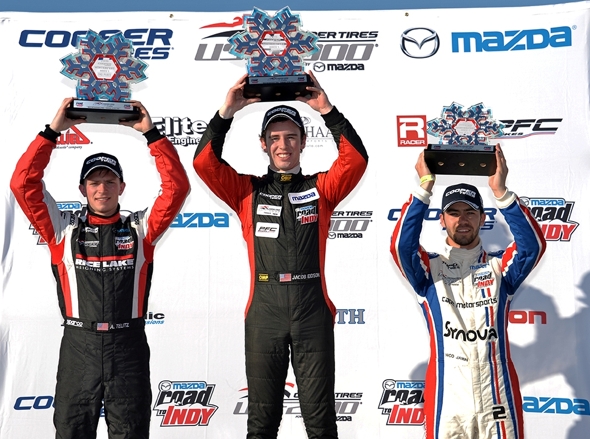 Jake Eidson capped a glorious return to form for Pabst Racing by claiming two convincing victories in the opening rounds of the Cooper Tires Winterfest mini-series for the Cooper Tires USF2000 Championship Powered by Mazda at NOLA Motorsports Park.
Eidson, who finished third in the "regular season" championship in 2014, laid down a marker early by snatching the pole position for the first race, but it wasn't all plain sailing for the 19-year-old from Memphis, Tenn. Eidson completed only a half-dozen laps in qualifying due to a clutch failure, which led to an all-hands-on-deck thrash by the Pabst team to complete a change before the race start later in the day.
They did, and Eidson repaid the crew's hard work by holding onto the lead at the start and stretching his advantage throughout the 19-lap race. He finally took the checkered flag a full 3.4422s clear, winning at an average speed of 101.293mph.
Fellow former Team USA Scholarship winner Aaron Telitz, from Birchwood, Wis., qualified in third but managed to scramble past teammate Nico Jamin on the opening lap and held off a determined challenge from the Frenchman to maintain second place.
Eidson's form continued on Friday, as he and Victor Franzoni shared the victory spoils for Pabst Racing and Afterburner Autosport, respectively.
After an electrical problem in qualifying restricted Franzoni to an unrepresentative 14th on the grid for Round 1 on Thursday afternoon, he charged through the pack to finish sixth. Friday he was even more impressive, storming from seventh on the grid to third at the end of Lap 1 in Race 2, then making quick work of both Eidson and polesitter Jamin to take the lead on Lap 3. He never looked back en route to a clear victory.
Jamin finished almost three seconds in arrears after Franzoni eased his pace on the final lap, while Eidson was a similar margin farther back in third.
Franzoni, who also won at NOLA in the 2014 Winterfest, lined up third on the grid for the third round, and once again lost no time in making his move for the front. Indeed he was already more than one second to the good by the completion of the first 2.75-mile lap. He drove away and was well clear of everyone else when the pace was slowed by a full-course caution after Jamin pulled off the track with a broken suspension. The failure was caused by a clash of wheels under braking for Turn 12 as Eidson wrested away second place with a bold outside-line pass.
The race finished under caution, but Franzoni's joy was short-lived as his car failed post-race technical inspection and he was disqualified from Race 3, handing the victory to Eidson.
Eidson now holds a commanding 26-point advantage over his nearest pursuer as the first rung on the Mazda Road to Indy ladder heads to Barber Motorsports Park for three more races later this week.