NASA Performance Touring D champion crossed the country in search of a title.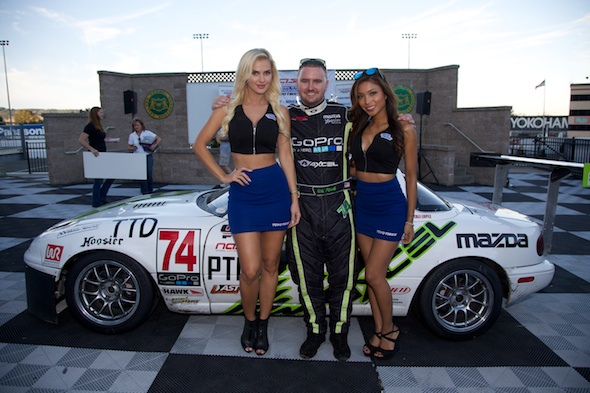 Eric Powell had one goal in mind for 2014: win a national championship and get invited to the Mazda Club Racer Shootout. While he accomplished that by winning Performance Touring D at the NASA Western States championship in his Miata and made it to the Shootout, he fell short of his ultimate goal: winning the prize of a season in the Idemitsu Mazda MX-5 Cup Presented by BFGoodrich® Tires worth $100,000.
"I'm going to be right back here next year. Nothing's going to stop me," he declared at the Shootout.
Powell's dream is to be a professional racing driver, but he already makes his living driving on the edge every day as a stunt driver in Walt Disney World's Lights, Motors, Action! Extreme Stunt Show. Living in Orlando, Fla., it's quite the commitment to ship one's race car to California and travel to Sonoma in order to secure that championship. How and why he did it is a lesson in determination.
"I built and developed my car for PTD and it was all for the Eastern States Championships [at Road Atlanta]," he explains. "And no one showed up for my class and I had to down class to PTE. We had no development time on the car, and it's a completely different setup required. So we had to change a bunch of things, the car was just undeveloped and we finished second. So right them, I knew we had to go out west to run the Western States Championship and I committed myself to figuring out how to get that done. That turned out to be shipping the car out with a local team that was going to the SCCA Runoffs, and then I had another team pick the car up [at Mazda Raceway] and take it to Sonoma. It was a process, but it worked out."
That wasn't the end of Powell's trials. While his speed indicated he had what he needed to win, there were a lot of things that had to be overcome in order to make that happen.
"We had a lot of issues over the weekend. When I showed up, we found a broken diff housing on the car, we found a ripped axle. We replaced those and then on the first session of the test day, we found the steering rack was completely loose. All of those issues out of the way, we got to tuning the car and got it up to speed. I ended up qualifying on the pole overall on Friday, and won the first heat race. However, we got sent to the dyno after that and made too much power, so we got disqualified. I had to go re-tune the car, add weight, and we started the second heat race from the back. I came up through the field and won overall."
However, the starting positions for the championship race weren't determined by the finishing order of the heat race, but by a points system in the two heat races. So even having one won, no points in the other meant he started at the back again. Still, he carved his way through the field in short order to take the victory, which he credits to the car's handling.
"We have worked so hard on the car and have gotten it incredibly good. We started with the Miata platform to begin with, and that kind of gives us a leg up on everyone. My car is really good through the high-speed Esses at Sonoma. So for the guys that are close to me, that sets me up perfectly for the overtaking opportunity in Turn 11. I wish I could say it was more challenging and I had more fun, but my car was so good. We worked hard and really nailed the setup for that track."
His car finally arrived back in Florida, so he's prepping it for another run at a championship in 2015 while he continues pushing the limits in his day job. Hopefully this fall he won't have to travel as far to achieve it.
Related Content:
Mazda Champion: Jason Kohler
NASA Eastern States SM Video
New Mazda-Powered Prototype for NASA