Honor for most improved driver presented to the Touring 4 National Champion and Mazda salesman in Chicago.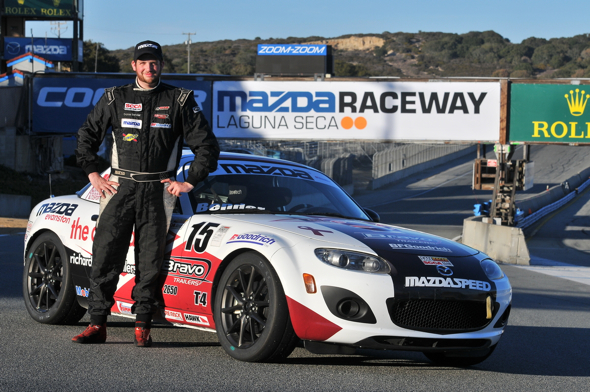 In racing, a favorite old saying is that if you're not improving, you're going backwards. That applies not only to equipment, but to drivers as well. Danny Bender can say he's improving, and he's got the award to prove it.
Bender is the 2014 SCCA National Champion in Touring 4, a title he claimed at the Runoffs at Mazda Raceway Laguna Seca driving an MX-5 last October. On Saturday night, he was awarded the Kimberly Cup, a nation-wide SCCA award given to the driver who has shown the greatest improvement over the previous year, as chosen by the Club Racing Board. Originally presented to Jim Kimberly in 1954, previous winners of the award include Augie Pabst, Roger Penske, Peter Revson, Mark Donohue and current SCCA president Lisa Noble.
"It's nothing short of an honor," says Bender. "You have an award that's given to one driver a year and you look through the past and you're able to say my name is on an award that people like that have won; that's really cool and special. It's almost surreal. I never thought I'd be in that type of company."
While winning the National Championship is certainly an indicator of progression as a driver, Bender says he can't really point to one thing that led to that improvement except for the fact that he spent more time in a racecar last year than he had previously. Plus his racing is intertwined with his career as a Mazda salesman at Autobarn Mazda in Chicago, making him take it that much more seriously. But even if he can't point to a particular cause, he certainly recognized a symptom.
"One thing that was different this year, and I did feel like I took a little bit of a next step, is everything felt like it slowed down a little bit," he explains. "Before as I went into the braking zone, it was a rush of brake, downshift, entrance, apex, roll off the brake, get back on the gas. Now it's, 'OK, now we're coming into the brake zone…there's your brake point…there's your turn-in point…roll off the brakes…roll on the throttle. Everything felt just that much more slowed down and magnified where I could focus on a lot of the little things. I think I'm at the point where a lot of the little things have become subconscious, where you can focus on being smooth with your applications and being smooth with gearshifts. I can focus on the bigger things like where to turn in, how the car feels and where to place it to get the optimal lap."
The Kimberly Cup was presented at the Chicago Region SCCA annual banquet. Traditionally SCCA's biggest awards have been presented at its annual convention, taking place this year on Feb. 20-21 in conjunction with the North American MotorSports Expo (MSX) in Charlotte, N.C. However, the club has begun presenting some awards at regional banquets in order to save awardees travel, allow the award to be presented with more family and friends present and perhaps add some element of surprise. Bender notes that while he knew he was there for something – his father warned him to dress nicely – he didn't know what until his name was called.
Bender is still finalizing his racing plans for 2015, but hints that he may have some interesting news in store. Watch this space.
Related Content:
Reynolds Names President's Cup Finalist
Mazda Champion: Ron Bauer
Mazda Champion: Ben Anderson