No. 10 in a countdown: Know your viable options.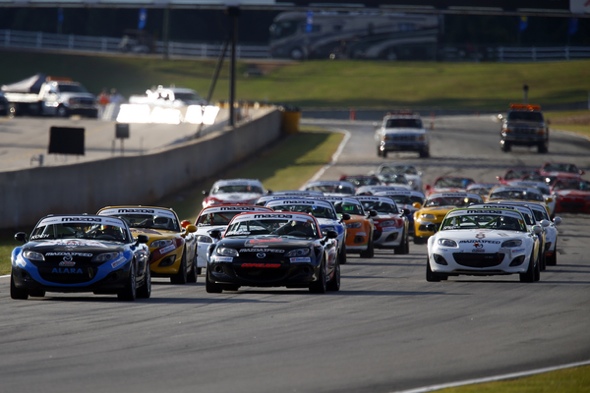 Whether you autocross or compete on road courses, there are ten must-dos in order to climb the racing ladder. As the season starts to heat up, we're going to break down each of the key ingredients needed, providing insights, tips and tricks from our Behind the Zoom team and other experts in the field, starting with determining what type of racer you are not only most passionate to be, but also have the best odds of achieving; this is the first step to launching your career.
Is IndyCar your dream? The IMSA TUDOR United SportsCar Championship? Racing for the Mazda/SpeedSource SKYACTIV Prototype team? We hope the latter, but if you don't know, start researching. Sure, there are plenty of examples of racers who started in open-wheel and transferred to sports cars (e.g., Patrick Long and Joel Miller), and vice versa. Many will rightfully tell you that competing in sports cars and open wheel makes you a more well-rounded driver. But can you afford it – in both time and money? Starting in one form of racing and transferring to another has its costs, too.
Let's face it, learning the basics of car control, racing line and acumen presents a significant learning curve for everyone. Should you spend significant funds learning the basics of car control, building your racing acumen, network and brand in a series that you're not sure is right for you AND is relatively costly? Yes, it could work out for the best. But, time is a constraint for many and some people do start their career path and never look back.
So if funds are limited, which usually they are (or quickly become), and time is on your side, consider starting in autocross (aka Solo) to build the foundation. Have you heard of Randy Pobst? Yes? Good. No? Ok, you're probably new to the show, but that's okay. We are here to assist. At age 19, in 1977, Randy started his career in autocross and is still whooping on the young guns today in professional racing. He is a 10-time champion and has over 70 pro wins. His experience, knowledge, and craft are arguably one-of-a-kind. So, we asked Randy to weigh in.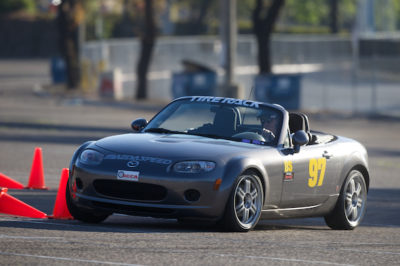 "Racing requires money, lots of it – yours or someone else's. So that is what I consider the most important part, and that is why I started with autocross/Solo events," he says. "It is important to win where you are racing, if a pro career is your goal, so choosing a venue where your budget can win is critical. For me, autocross provided a crash-free environment with immediate feedback on how my driving related to time and competition. Skidpad with autocross is by far the quickest and most efficient way to learn the fundamental car control skills needed to be fast and crash-free."
The takeaway: Learn and do it economically, while you can. You don't need to "Fast and the Furious" your car (i.e. spend lots of money to make it go the fastest). You can join an SCCA autocross event, likely in the car you drive to work. To learn more, check out: http://www.scca.com/solo/
For those of you who believe you know the type of racing you love and could be good at, preferably quite good at, dive in. If you find that you didn't have all the answers, switching is okay. Typically the challenge often becomes financial, as sometimes you have to take a step back to cross over, flipping the bill for a longer period of time to accomplish the same goal. When speaking to a group of young up-and-comer racers, Mazda SKYACTIV Prototype driver Joel Miller succinctly stated, "Race where the scholarships are." No matter the talent, you have to have funding behind you. Know your ladder system.
However, sometimes the obstacle is age. While Paul Newman started racing sports cars in 1972 and continued until 2006 when he was 81 years old, IndyCar is another story. There are not many competing after the age of 40 (and many started in their 20s). So, if the Verizon IndyCar Series is your dream and you think you may have what it takes to hustle a less-than-1600lb race car with more than 700hp around tight streets, road, and oval tracks and the clock is still ticking, then you've got the Mazda Road to Indy (MRTI) to support your dream.
If competing in sports cars is your dream, then consider joining the Sports Car Club of America (SCCA) or National Auto Sport Association (NASA) racing organizations. If you want the best competition, the most rewarding community to learn from, and the best contingency awards around (yes, this is a shameless plug), then you should get your competition license from one of those organizations, hop in a Mazda, and start building your skills. The good news is that once you master the basics and feel ready to tackle more, the main entry-level professional race series for sports cars in the U.S. is also supported by Mazda – the Idemitsu Mazda MX-5 Cup presented by BFGoodrich® Tires. Yes, that is a mouthful, but look at it as a lot of support from some premier organizations.
Mazda's driver development program continues in sports cars, too; not just the open-wheel MRTI ladder. Typically, the level after the MX-5 Cup for you to compete is in one of two IMSA series: the Continental Tire SportsCar Challenge Street Tuner category or Cooper Tires Prototype Lites Powered by Mazda. Good news: win the MX-5 Cup championship and earn a $200,000 scholarship to compete in one of these two series (in a Mazda, of course). Once you have mastered these (or done really well, we suppose), the final rung in the sports car ladder is the IMSA TUDOR United SportsCar Championship. And yes, it could be (and should be) in a Mazda. In 2014, we started the first manufacturer-backed program to give those most deserving the possibility to advance to the top-level sports car program, the TUDOR United SportsCar Championship, in our prototype. If you make it to our prototype program, you will be helping develop the next generation road car technology – not a bad gig.
Okay… Did you get all that? Consider your time, money, passion, and more. But don't consider another manufacturer if you want to take place in a driver development ladder, because that's our thing. Check out the open-wheel and sports car ladders, in a snapshot: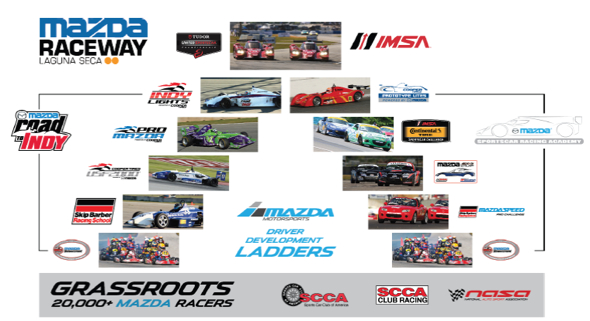 Next up – #9: Get into Racing Shape.