Current and former MX-5 Cup competitors have some words of wisdom for Mazda Club Racer Shootout winner Kyle Loustaunau, or anyone in a similar situation.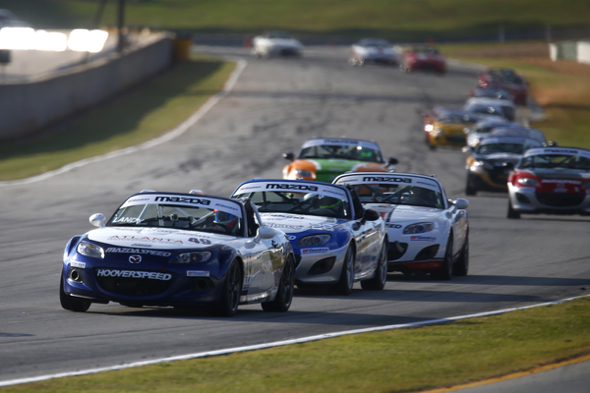 So, Kyle Loustaunau has won the Mazda Club Racer Shootout. His 2015 season is set for competition in the Idemitsu Mazda MX-5 Cup Presented by BFGoodrich® Tires. But now is the time for Kyle to not only make sure he is as well prepared for 2015 as possible, but ready to make the most of this opportunity so that he is prepared for the racing seasons that follow.
We turned to some people that have been in Kyle's shoes, one way or the other – competitors that have been rookies and are looking for ways to make the best first impression and make sure their racing career carries them faster and farther. All three have been Mazda scholarship winners as well, and MX-5 Cup has been or will be their playground. Their advice applies not only to Kyle, but to anyone looking to make the most of racing opportunities.
Joey Bickers was the 2013 Club Racer Shootout winner and competed in the 2014 MX-5 Cup with CJ Wilson Racing. He focused on the first step Kyle must take in order to compete, and it's solid advice for anyone that has to choose teams, partners or prep shops.
"Test with a few different teams and go with your gut feeling. When it comes to choosing a team and ultimately a car you will be in for the entire season, choose wisely. Know what your goals are – not just short-term, but long-term as well, and go with your instincts," Bickers says.
Like Kyle, Drake Kemper will be a rookie in the 2015 MX-5 Cup. But Kemper has the advantage – like Kenton Koch before him – of having spent a year in the Skip Barber MAZDASPEED Pro Challenge that runs concurrently in MX-5 Cup races. He knows how hectic it can be.
"I would say be smart and know your surroundings. Sometimes we are going four-wide into a corner, and it only takes one mistake to ruin several people's races," says Kemper.
Finally, 2014 MX-5 Cup champion Koch says to start preparing now for whatever is going to happen in 2016. Take care of the business at hand, but lay a groundwork for future seasons. Although Koch is competing in the IMSA Cooper Tires Prototype Lites Powered by Mazda in 2015 with the help of a Mazda scholarship for winning MX-5 Cup, it takes additional funding to get a top-tier ride, so he's had the experience of working on partners.
"Make the most of it," he says. "If you don't win next year, you're going to have to find funding somehow to move up the ladder. I know from seeing Kyle and the way he performed that he really, really wants this. I think if a situation occurs where he doesn't win the championship, I think he's going to make the most of his opportunities at the racetrack to network. I think with that experience, he can go far, because he is a personality, he is sociable, he is fast and consistent; he has all the properties of becoming an all-around driver. What a lot of people lack is funding. You have to make the most of your opportunities at the track and off the track as well by meeting people that can help fund your career."