Liam Dwyer shifting from active duty with the U.S. Marines to full-time racer driving an MX-5 in the Continental Tire SportsCar Challenge.
After scoring a victory in only his second professional race, Liam Dwyer is joining Mazda as a full-time racer in the 2015 Continental Tire SportsCar Challenge.
Dwyer and Tom Long to co-drive their Freedom Autosport Mazda MX-5 to the win in the Lime Rock Park Continental Tire ST race on Memorial Day weekend in 2014, a made-for-Hollywood result given that Dwyer is a wounded U.S. Marine Staff Sergeant who uses a specially-made prosthetic left leg that attaches to the clutch pedal of the MX-5 racer. Dwyer was injured in Afghanistan just three years previously.
For 2015, Dwyer will be paired up with Andrew Carbonell for the entire 10-race season beginning Friday at Daytona International Speedway. Carbonell scored two wins with Freedom Autosport and Mazda in 2014.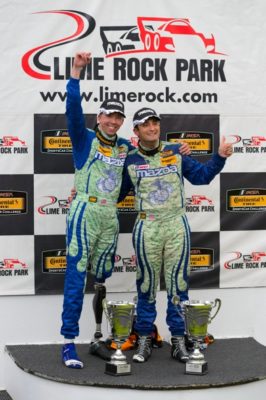 "I am very excited for the 2015 season," says Dwyer. "I thought things couldn't get better after last season, but Mazda has once again shown how immensely awesome they are. To be granted a full ride in the Freedom Autosport Mazda MX-5 is the ultimate dream come true. And on top of that, I have one of the fastest MX-5 drivers, Andrew Carbonell, as my co-driver. I can't thank Derek Whitis, Rhett O'Doski and everyone at Mazda enough for this opportunity."
It was a pretty easy choice to make, notes John Doonan, Motorsports Director, Mazda North American Operations: "While we are all impressed with Liam on so many levels, we have recruited him for the same reason we recruit any driver. We believe that he can help Mazda win races and the 2015 manufacturers championship. His personal story is just the icing on the cake and helps us connect with a bigger story."
Dwyer's co-driver Carbonell is looking to win the Street Tuner championship after a strong run in 2014. He looks forward to pairing up with Dwyer after watching him race another car as a teammate for three races last year.
"I am excited to be confirmed with Mazda and Freedom Autosport for the 2015 IMSA Continental Tire Challenge season," says Carbonell. "I am also proud to be co-driving with one of the most incredible racing stories recently: Marine Staff Sergeant Liam Dwyer. I have had the honor of getting to know Liam through the select races he drove with Freedom Autosport in 2014. To watch the inspiration and motivation from Liam from afar makes one understand the sacrifices one makes to follow their dreams whatever the circumstance may be. I look forward to continuing success and adding more victories together for Freedom Autosport and Mazda."
Practice for the first race of 2015 begins Wednesday, with the two-and-a-half hour race for Grand Sport- and Street Tuner-class cars kicking off at 1:45 p.m. Eastern time on Friday. The race runs as a support event for the Rolex 24 at Daytona, where Mazda will compete with a pair of SKYACTIV Diesel Prototypes.
Related Content:
Meet Liam Dwyer
Another Mazda Sweep at Lime Rock
Transforming Road Car to Racer