Team RDR and RJ Racing take the E2 and E3 victories, respectively; Factory Guys claim battle over dealers.

After 25 hours of racing, the 12th edition of America's longest endurance sports car race is in the books. While no Mazda was in contention for overall victory at the NASA 25 Hours of Thunderhill presented by Hawk Performance, the manufacturer's cars claimed two victories.
Team RDR claimed the E2 Class victory with the No. 34 Mazda RX-8. The team made up of Dennis Holloway, Joel Miller and Lee Papageorge covered 576 laps on the way to their second win in as many years, 69 laps ahead of second place.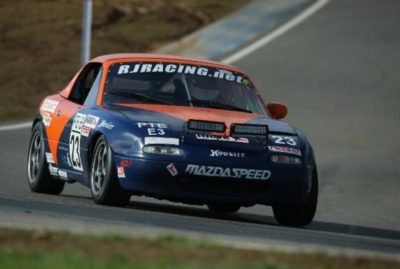 The E3 battle was won by the No. 23 RJ Racing Mazda Miata for the second year in a row. Gary Browne, John Gibson, Rob Gibson, Roger Eagleton and Edgar Lau took a 40-second margin of victory at the drop of the checkered flag. Four of the top five cars in E3 were Mazdas.
In the E1 battle of Mazda Factory Guys vs. two teams of Mazda dealers, all in Mazda6 Diesels, the dealer teams both had difficulties in traffic, leaving the Factory Guys – Randy Miller (Mazda R&D), Ken Saward (Mazda Design), Mike Allen (Mazda Motorsports) and Jeremy Barnes (Mazda Public Relations and Brand Experience) – alone in the run toward the checkered flag.
Forty cars out of 54 starters finished the race, which featured 33 caution periods, one red flag and more than 80 penalties issued for various infractions. One of these was issued to the No. 34 RX-8, which had to pit under yellow when they were running out of fuel.