Vacaville. Calif. racer awarded $100,000 scholarship prize to compete in the 2015 Idemitsu Mazda MX-5 Cup Presented by BFGoodrich® Tires.
After half a day of presentations, grilling by judges and a day of lapping on a very wet and slick Buttonwillow Raceway Park West Course, Kyle Loustaunau emerged as the winner of the biggest prize in club racing over seven other candidates in the Mazda Club Racer Shootout. As a result, Loustaunau, who won the National Auto Sport Association (NASA) Spec Miata title at NASA's Western States Championships to earn his place in the competition, has at his disposal a $100,000 scholarship package to compete in the 2015 Idemitsu Mazda MX-5 Cup Presented by BFGoodrich® Tires.
"Over the past three days I've had the most amazing experience of my life," said Loustaunau. "This is both an honor and a privilege to represent Mazda and I can't wait to get started. It has taken help from a lot of amazing people to get here and I can't thank everyone enough."
The eight candidates, culled from a group of Mazda champions from NASA, SCCA, Skip Barber and – new this year – iRacing, had to contend with tough and ever-changing conditions as rain got heavy and lightened, providing just a touch of relief to California's drought. Although the sun did peek out a bit late in the day, all sessions were conducted on BFGoodrich rain tires. Driving in the rain was only one of the obstacles Loustaunau had to overcome to take the prize.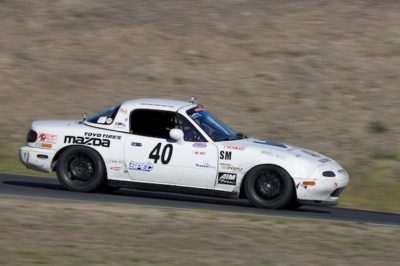 "Every year the Mazda Club Racer Shootout just gets better and better," noted Charles Espenlaub, the head judge and one of the few to have witnessed every shootout. "Having been involved since the beginning, I am continually amazed at the talent level that the Mazda champions bring. As the landscape of racing changes so does the competition on and off the track. This year we had another twist, with heavy rains the conditions were extremely difficult. This added to the challenge and as always made for a difficult decision as to who would win the coveted prize. Everyone did an outstanding job and put in efforts worthy of the champions they are. As in the very competitive Idemitsu Mazda MX-5 Cup the winner can be decided by a few tenths of a second. Kyle Loustaunau was able to top the field by showing well in multiple categories all of which should provide success for his climb up the ladder."
The prize that Loustaunau claimed will allow him to compete in the 2015 Idemitsu Mazda MX-5 Cup Presented by BFGoodrich® Tires. Included in that sum is a budget to run his car for the season, a parts support budget, a Mazda driving suit and helmet, professional media training, 12 sets of BFGoodrich tires courtesy of BFGoodrich (one set per race) and 12 entry fee waivers courtesy of SCCA Pro Racing.
"Mazda Motorsports is the leader in grassroots road racing," said John Doonan, director of Mazda Motorsports. "This leadership has given us opportunities to do things that no one else has done. Our Club Racer Shootout has become a signature event for us and represents an amazing opportunity to help racers move from the club level to the professional ranks with a solid support program around them. We expect Kyle to have a great season in the 2015 Idemitsu MX-5 Cup and hopefully many more years with Mazda."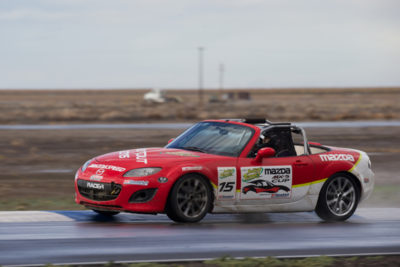 Driving ability – both speed and consistency – was only one of the criteria used to judge the six candidates who had won various racing titles in a Mazda and the two who had won a season of iRacing MX-5 Cup and who acquitted themselves admirably on track. The final eight were first selected based on the quality of their business proposals. They then had to present those proposals to the judges the day before the on-track sessions. They also had to demonstrate their understanding of vehicle dynamics and suspension, along with their ability to evaluate and improve the handling of a racecar and their ability to analyze data.
Having come through that and secured the funding for next year, the next step for Loustaunau, from Vacaville, Calif., will be to speak with and test with several MX-5 Cup teams to choose one for 2015. The first race weekend of the 2015 Idemitsu Mazda MX-5 Cup Presented by BFGoodrich® Tires will be at Sebring International Raceway on March 18-20.
The eight shootout finalists were:
| Racer | Club/Series | Hometown/Residence |
| --- | --- | --- |
| Sam Adams | Skip Barber Racing School (Summer Series) | Hubertus, Wisconsin |
| Ben Anderson | NASA Eastern States Championships (PTE) | Minneapolis, Minnesota |
| Steven Diem | iRacing MX-5 Cup (Season 3) | Kailua, Hawaii |
| Joey Jordan | NASA Spec Miata Teen Challenge (West) | Santa Barbara, California |
| Kyle Loustaunau | NASA Western States Championships (Spec Miata) | Vacaville, California |
| Evan Maillard | iRacing MX-5 Cup (Season 2) | Nesles La Vallée, France |
| Zachary Munro | NASA Spec Miata Teen Challenge (Rocky Mountain) | Granby, Colorado |
| Eric Powell | NASA Western States Championships (PTD) | Orlando, Florida |
Each year Mazda invites a panel of outside judges to make the selection. The judges brought a wealth of both on-track, and off-track expertise. More than a dozen professionals were involved in either the preliminary business proposal review, on-track activities, or both. The panel consisted of:
Peter Calhoun – BFGoodrich
Charles Espenlaub – Safecraft Racing
Pete Evanow – Cal State Fullerton
John Fabijanic – Cal Poly San Luis Obispo
Tim Frost – Frost Motorsports, LLC
Julie Garner – Project Yellow Light
Kenton Koch – 2014 Mazda MX-5 Cup Champion
Karl Koenigstein – BFGoodrich
Ken Payne – BFGoodrich
Justin Piscitell – Past Shootout Winner
Evin Prelec – Idemitsu
Jeremy Shaw – Team USA Scholarship
Scott Shelton – ABC Television/Past Shootout Winner
Lyn St. James – Women's Sports Foundation
Barry Toepke – Mazda Raceway Laguna Seca