Joshua Allan and Lee Papageorge have taken two different routes to NASA's PTD class, both with positive results.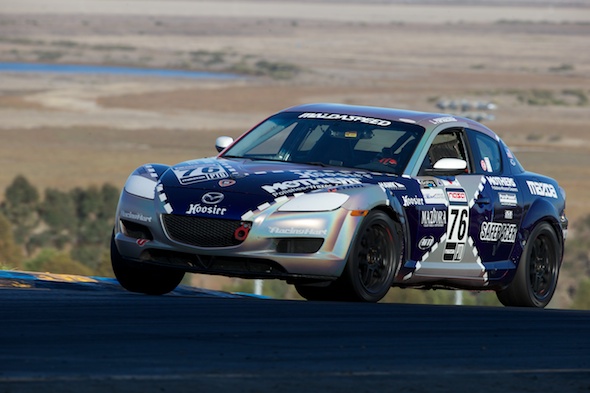 For any given destination there are multiple paths. Some are more scenic, some are more interesting and some are just, well, faster.
Joshua Allan and Lee Papageorge both race Mazdas in the National Autosport Association's (NASA) Performance Touring D class. They both race out of the Robert Davis Racing stable, primarily in Southern California. They finished second and third, respectively, in PTD at the NASA Western States Championships at Sonoma Raceway in early November.
Allan, though, races an NC MX-5; Papageorge competes in an RX-8. So which one is faster?
"Josh's car is significantly faster," laughs Papageorge, with Allan chuckling right along with him. The serious answer is a little more complicated than that but, to sum it up, it depends.
"I think what we're dealing with is a very good handling car and a high-powered car," explains Allan, who won the PTD National Championship in 2012. "Both have good power and handling, but the MX-5 is faster on the shorter, technical tracks and the RX-8 is faster on the tracks where it can start to pull its legs."
"I think there has been an event here and there where we have swapped wins. But for the most part, [Allan's MX-5] is quicker at the more technical tracks – Buttonwillow and, for sure, [Sonoma Raceway]. This car [RX-8] does well at Auto Club Speedway and Willow Springs, and Mazda Raceway, depending…it's good on the uphill drags even though it's relatively low on torque. As long as you've got good exit speed, the car pulls nicely up the hills. So, with some exceptions, I think the pattern we've seen is about what you'd expect looking at the two cars."
The NASA Performance Touring category is primarily points-based. Each car is assigned a base class, and each modification carries a certain number of points. Accumulate 20 points, and the car moves up a class. The RX-8 is base-classed in PTD, so there isn't much one can do before it leaves the class. The MX-5 has PTE as its base class, so there is more leeway on modifications in PTD.
Tires will eat up points in a hurry – R-compound tires carry 7 to 15 points. The Hoosiers that both use are 13 points. For Papageorge, that leaves room only for shocks, springs and an air box and open exhaust.
Allan runs aftermarket shocks, revalved but not adjustable, air box and header. He describes his car as basically an MX-5 Cup car except for the suspension and tires. He still has some room within the points structure to further develop the car.
The result of all that is two cars that are somewhat evenly matched. The power of Papageorge's RX-8 is balanced by the weight. But that weight also plays a part in the tire life.
"The MX-5 is easier on tires," says Allan. "The RX-8 is going to be stronger at the beginning of a race, at Willow Springs in particular, but toward the end his tires go away and I'm still running strong."
It's an interesting experiment trying to balance cars with different levels of modification, and it's a real chess game to determine how best to use the points available with any given car. But it also provides an opportunity to prove the qualities across different platforms, and the versatility of a single model.
"We've got a couple of RX-8s prepared to different levels," says Papageorge of the Robert Davis Racing team. "The whole idea is to show what a flexible platform it is. You can do very light modifications and end up with a strong D car, or you can do some more and end up with a strong C car. For a while we had a B car, but there wasn't much competition, so we downgraded it to a C. The whole idea was to have it almost be a development exercise on the RX-8 and show some of the different rungs on the ladder."