Aaron Telitz, the 2014 Cooper Tires USF2000 Championship Powered by Mazda Rookie of the Year, along with Skip Barber racer Michai Stephens, was chosen to represent the U.S. in the Team USA Scholarship, which is supported by Mazda and many others in the motorsports industry. They spent a few weeks in the UK, racing at two of the most prestigious racing events in Europe, the Formula Ford Festival and the Walter Hayes Trophy. Two of his accounts from the experience follow.
Ricky Bobby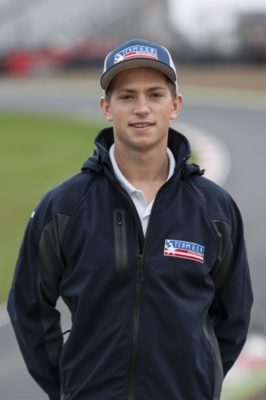 That's a pretty weird title, right? Don't worry, it's going to make a lot more sense soon!
Saturday dawns at the Formula Ford Festival at Brands Hatch and brings with it – much to everyone's surprise – a bit of sunshine and warm weather! The track was still a little damp from an overnight shower when I made my way out for qualifying, but I quickly figured out where the damp patches were and how to avoid them and then put in a quick lap amongst all the traffic. I used to complain about traffic in the Cooper Tires USF2000 Championship Powered by Mazda, but I don't think I'll be able to do that anymore after experiencing 30 Formula Fords on a 1.2-mile track!
I knew my time was pretty good but had no idea if it would hold up until I came around the last lap of qualifying and saw the Cliff Dempsey guys holding up my pit board with "P1" on it. So, step one complete! If anyone would have asked me if I was going to qualify on pole my first time at Brands Hatch I probably would have told them, "Of course!" but, in reality that would've been a bit of a stretch!
Heat 1 was right after lunch for me. It was time to put my standing start skills to the test! Luckily, no one was actually grading my standing start because it would of received a C – at best. I had too much wheelspin and instantly dropped to second by the first corner. I got a lap to gather myself up and then made a charge for the lead. Coming into Clearways (the last corner) I made a nice move up the inside to take the lead and then sailed off for the win from there. So just like that in my first day of racing in the UK I grabbed pole position and a win! Winners at the Festival get these Christmas wreaths of different colors, which is a cool and different idea instead of just trophies! After a fun night with the team I headed to bed to be ready for the big day.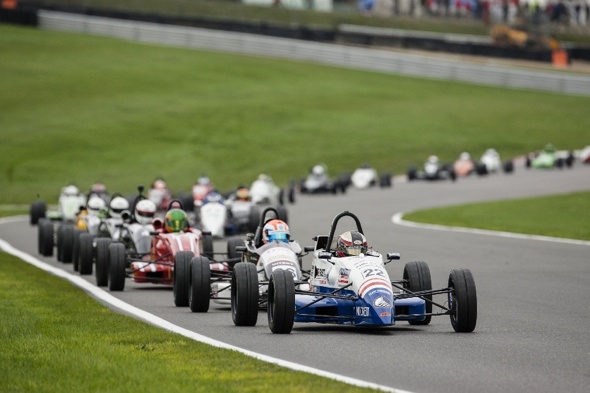 Sunday again was a weird weather day for the UK. It was a super-nice warm day (I wasn't complaining!). I started my Semi-Final from pole position and this time improved my standing start about two full letter grades. I held first place and only had to do some defending for the first lap. As much as I don't like how you're allowed to defend your position over here, I have to say I was a huge fan of it while I was leading! Basically, if you don't want someone to pass you, you're allowed to do pretty much whatever you want. So I held my position and began to pull a nice gap on the rest of the field. Then we had a safety car. You never want to see one of those while you're way out front. Luckily, I was watching the other Heat race from Saturday and saw how they handle safety cars. When the lights go out on the safety car it tears off for pit lane. The big difference is that over here the Safety Car does this about halfway through the lap. This leaves the pace completely up to the leader. So when the Safety Car pulled away I just slowed right down and waited on the back straight till it got far enough away that I wasn't going to catch it by the time I got around to the front straight. I put the hammer down at the end of the back straight and by the time I got to Paddock Hill Bend I already had a nice gap. Then with three laps to go we got another safety car! I felt like I was in NASCAR because we then had a "Green, White, Checkered" finish. I could nearly hear Darrell Waltrip getting all excited and saying "Boogity, Boogity, Boogity Boys!" I had another great restart and won comfortably. This gave me a guaranteed front-row starting position for the Final. Sadly, the other Semi-Final only had one safety car which meant that their total race time was faster than ours so I would be starting P2 for the final.
I got a really good start in the final and instantly began to challenge for the lead. I was just sizing up first place to see where I might be able to make a move. Because of the extreme levels of defending here, you either have to try something silly or wait for them to make a mistake. Because hindsight is 20/20 I can tell you the latter is probably the better choice. On Lap 4 I had great run onto the front straight and drafted alongside the leader into Paddock Hill Bend. I was on the outside and braked a bit too late which sent my car into a big slide. Just when I was gathering it up I got into the marbles and spun off into the gravel trap. My race and my shot at winning it all my first time in Europe was over.
As I was sitting in the gravel trap watching the rest of the race I realized I basically lived Ricky Bobby's motto – "If you ain't first, you're last!" – to a "T" this weekend. I qualified on pole, won both my Heat race and my Semi-Final. Then instead of being more patient and waiting for an opportunity or settling for second in the Final I went for it all and lost. I'm not extremely proud of it, but it's a funny comparison nonetheless.
I had so much fun and learned a lot about racing and myself. Thank you so much to all the Team USA Scholarship supporters for making opportunities like this possible. And thank you to everyone at Cliff Dempsey Racing for giving me an amazing car all weekend.
The Walter Hayes Passing Festival
We left off with me sitting in a gravel trap at Brands Hatch comparing myself to Ricky Bobby. So let's get a little more positive before we hit another negative!
After the Formula Ford Festival at Brands Hatch we had a short week to get ready for the Walter Hayes Trophy at Silverstone. We arrived at the track on Wednesday to get ready for an awesome weekend of racing. The two test days on Thursday and Friday went extremely well. The Silverstone National circuit is as different from Brands Hatch as you can get. It is wide, flat and crazy-fast! I ended up fastest in my group and was feeling confident for qualifying on Saturday.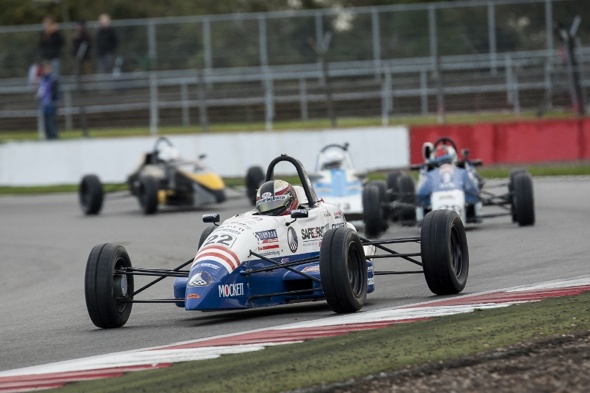 When I rolled out for qualifying, the track was very damp from an overnight rain shower but the sun was out and it was a very warm day. I felt out the conditions and was able to put my American flag with wheels on it (AKA the "Freedom Wagon") on pole position for the second time in as many attempts! I had a decent start in my heat race and held first place until Turn Three (Becketts) when I got a full on slide job put on me. I managed not to bang wheels and we headed down the long back straight towards Brooklands. I was on the outside of Turn Four (Brooklands) when out of nowhere I actually got ran over! My Freedom Wagon was pretty well doomed and I limped her back to the pits. Luckily my car wasn't too badly damaged and the Cliff Dempsey boys had it ready to go for Sunday in no time. I was now staring at a LOT of work to do on Sunday. I would need to race my way into the final from the back of three grids. To add to the challenge the weather for
Sunday was looking very English.
Sunday dawned, or well, just turned a brighter shade of grey when the sun came up. The track was soaked and it was still misting and spitting rain which it was supposed to do all day. I started the Progression Race on the second to last row and had over 20 cars to pass in 10 laps in order to transfer to the "Last Chance" race. I managed to get a good start and steadily passed cars until the end of the race. I managed to make it all the way up to second place!
So I then had literally a 30-minute break and I was back in my car for the Last Chance Race. I started in 32nd position and the track was even wetter. If you have never had the opportunity to start a race behind more than 30 open-wheel cars you probably won't understand my complaining when I say I couldn't see anything for the first two laps. I had made some good progress in those first two laps – however, a red flag stopped the race. This meant I'd have to go back and start again in 32nd position when they restarted the race. I would also now only have eight laps to make it into a transfer spot. When we restarted, I threw caution to the wind and blasted through all the spray making my way forward as fast as I could! Whether I evolved infrared vision overnight or I finally caught some luck I managed to make it up to fourth by the finish without running into anyone. This gave me a shot to fight my way into the final! I started the Semi-Final in 32nd position again and had a great start and was already up into a transfer spot on lap two when another red flag came out. I again had to restart the race from 32nd – and had two laps less to get near the front! I battled hard up to eighth which transferred me into the Grand Final!
I lined up 15th for the final and thought to myself "Huh, this isn't so bad." And it wasn't so bad! I made it quickly up into the top 10 around Lap Four or Five. Then after making a pass on Joey Foster for eighth and slotting in behind fellow Freedom Wagoneer Michai, I was spun by Joey in the next corner! I fell back to 16th and managed to work my way back up to 11th by the finish.
I was a bit bummed to have a shot at a podium – or even a win if the cards fell my way – taken away after a full day of scraping by for everything I could get! It was certainly a character-building weekend for me. After a day to fully digest my extremely busy Sunday at Silverstone I did some math and found out I passed 116 cars total in the four races (including cars passed before red flags).
There is no doubt I got all the track time I could possibly get at the Walter Hayes Trophy. It was honestly a lot of fun coming from the back of all those races. I really enjoyed the challenge. Again, thank you so much to all of the Team USA supporters! I had the time of my life those three weeks and could never thank you enough.
And of course thank you to all my friends, family and readers who have been following along on my journey. I hope you've enjoyed it almost as much as I have.