David Ferguson's Protoype 2 Van Diemen RFS-03 lived much of its life as a Sports 2000 before being converted to a very fast, Mazda MZR-powered P2 car.
When SCCA decide to consolidate and rearrange its sports racing classes into Prototype 1 and Protoype 2, the idea was to get more – and more varied – participation. Motorcycle-engined cars had dominated D Sports Racing and were often the class of C Sports Racing as well. Sports 2000 fields were dwindling. Clearly it was time for a change.
Sports 2000 is no more, so what's one to do with a Sports 2000 car? David Ferguson has the answer in his ex-S2000 Mazda-powered Van Diemen RFS-03.
"I was on the P2 rules advisory committee when we were inventing these rules," Ferguson explains. "There were advantages to cars like S2000 that had restricted technology, but at some level, a certain ability to have certain engineering freedoms. We don't specify anything about suspension geometry or shocks; you've got to have them, but that's about it. P2 was basically allowing these cars to go faster. We're going to have new-stock engines instead of 1970s Pintos. We're going to have modern automotive instead of the bike stuff that in D Sports Racing became this unlimited arms races with super expensive engines. We were going to use stock-based engines and use restrictors to balance them."
As the rules advisory committee was coming up with rules, they looked to Europe. Sports 2000s there had long ago gone to the Ford Duratec engine, a sister design to the Mazda MZR. The class was faster and fairly healthy, so the committee had its benchmark. They could see that 200hp, 1300lb. cars with a wing – something SCCA Sports 2000s did not have, but the other Sports Racing categories did – would have a certain performance level, and it was about the right one. So with the P2 rules in place, Ferguson set about converting his car.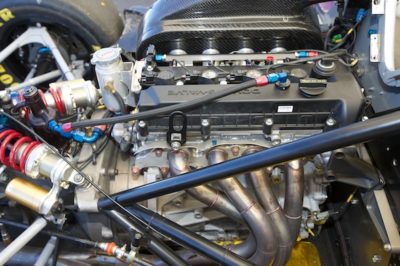 "We looked around at all the different engine manufacturers, and I wanted something that was motorsport-oriented, had some competition potential in its stock form, and the MZR 2-liter is absolutely the perfect fit for this class. It's got the variable cam timing, it's lightweight – aluminum in the later iterations, you've got all the good stuff inside it. There's nothing you have to do," he says.
"From Mazda Motorsports, I'm able to buy the long block package and, per the P2 rules, I'm allowed free intake and exhaust, so I had a really good exhaust system built. I put on some throttle bodies from AT Power in the UK. We have the freedom to do our own ECU and things, so I researched and ended up selecting an MBE ECU and did all my own programming and wiring," explains the ex-Apple engineer who now works with his wife at Veracity Racing Data. "I chose that because it could do everything on the Mazda engine – it could control the variable cam, it could use the knock sensor, it's integrated with the gearbox."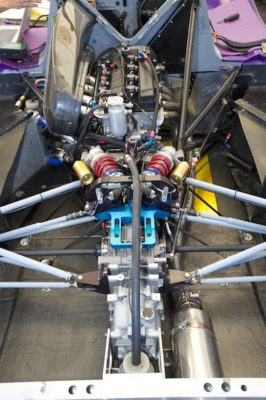 For the gearbox, Ferguson switched from the four-speed Hewland LD-200 that was the staple of S2000 to a Hewland JFR six-speed sequential. That's the gearbox that the S2000s with the Duratec engines use in the UK, so the suspension mounting points and A-arms for the Van Diemen had already been developed.
The only other changes that Ferguson made to the car was to add a dry sump system, the same one that Elite Engines uses for the Cooper Tires USF2000 Championship Powered by Mazda engines that it builds. In fact, Ferguson notes, one could take a USF2000 Championship legal car, put a sports racer body on it and a restrictor on the engine and just about have a legal Prototype 2 car.
One would have to go up against Ferguson's Van Diemen, though, and he seems to have it working quite well. Ferguson finished with the P2 title in the SCCA Western Division Majors Championship. He did quite well at the Runoffs, starting sixth and making his way to first, albeit with a pass under yellow that resulted in him being penalized a position back to second. But he turned the fastest lap during the race, by 1.3 seconds!
All in all, Ferguson's Van Diemen with Mazda MZR power seems to be a pretty potent package, and cars like this could bring new life into the Prototype categories.