Mazda racers take home championships from NASA Western States Championships at Sonoma Raceway.
Kyle Loustaunau is SM Champ
Spec Miata certainly looked like it was Mark Drennan's to take. He had led the two qualifying sessions flag to flag and looked like he was going to do it again in the championship race. But at the end, it was Kyle Loustaunau that ended up with the Spec Miata Championship.
Drennan jumped out to the front in the early going, steadily pulling away from Loustaunau and Hernan Palermo. But mid-race, Loustaunau began to reel him in.
According to Loustaunau, he and Drennan had minor contact in Turn 6 on the second lap that pushed in Loustaunau's fender and created a bad push in his rented Spec Miata. But the car came back to him, and started gaining on Drennan. Then Drennan overcooked it under braking for the hairpin Turn 11, and Loustaunau got by.
Another bobble later dropped Drennan to fourth behind Matthew Cresci. He got back by Cresci and started chasing down Palermo, who turned the fastest lap of the race. However, Drennan never had the chance to further improve his position due to a bad accident involving two of the Spec 944s that SM was sharing the race with. That accident ended the race early, and Loustaunau was champ.
Loustaunau is the first official Mazda champion at the NASA Western States Championships and is now eligible to contend for the Mazda Club Racer Shootout and its $75,000 scholarship to compete in the Idemitsu Mazda MX-5 Cup Presented by BFGoodrich® Tires.
Mazda power wins Super Unlimited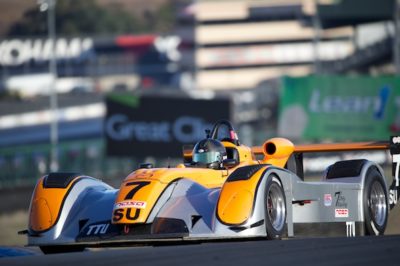 Jon Van Caneghem started on the Group D pole in his Super Unlimited Mazda-powered Panoz DP02. He tried to get a good jump at the start but perhaps it was a little too good, and it was waved off. The second time, though, the start stuck and he pulled out a bit of a gap that he kept for the duration.
Van Canegahem's Mazda Panoz and a couple of other sports racers were the fastest cars on track in the Sunday Championship races, and the anything-goes Super Unlimited shared its race with the Super Touring and American Iron classes, which meant a lot of much-slower traffic – think TUDOR Championship Prototypes getting through the GT Daytona cars. Van Caneghem said it was all about passing traffic at the right spots.
The DP02 isn't Van Caneghem's first Mazda racecar; he notes that he raced RX-7s for many years in the past.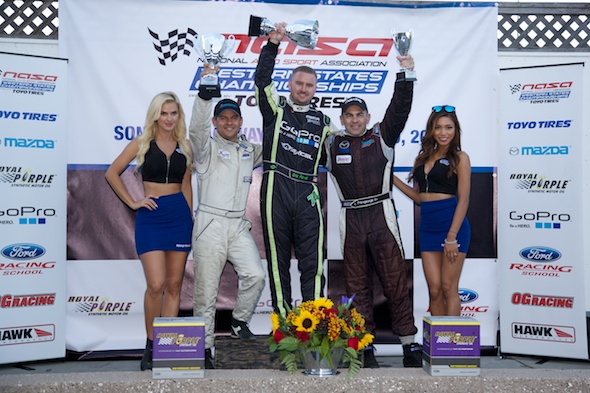 Two Performance Touring victories
Mazda just missed a podium sweep in two Performance Touring categories.
In PTD, because of the fact that the Championship race grid positions are based on points scored in the two qualifying races, Eric Powell had to start at the back of the field just as he did on Saturday. But once again, he moved his Miata to the front and was in the class lead ahead of polesitter Joshua Allan's MX-5 in a couple of laps.
However, he wasn't content with just the class win. He then went to work on the PTB cars and took the overall lead, cruising to victory. Allan and Lee Papageorge (RX-8) completed the Mazda podium sweep.
For Powell, it's the culmination of a lot of hard work. After having to move his car to a different Performance Touring class due to lack of entries at the Eastern States Championships at Road Atlanta two months ago and finishing second, he decided to make the tow to Sonoma Raceway from his hometown of Orlando, Fla., to have another try at it. His motivation for doing so was to win a championship and qualify for the Mazda Club Racer Shootout.
In PTE, Randy Evans made it look easy all weekend, sweeping both qualifying races and the Championship race in his Miata. But, as he notes, Sonoma is the home track for the South Lake Tahoe driver, and he's expected to do well here. Glen McCready was second in PTE, also in a Miata, after finishing third on the track and second place was disqualified.
A Mazda driver scored one more podium in the Performance Touring classes, as Warren Dexter finished second in PTB in an RX-8.
2015 NASA Championships
Locations and dates have already been announced for the 2015 NASA Championships. The Western States Championship will precede the Eastern States Championship next year, and take place at Mazda Raceway Laguna Seca on July 31-Aug.2, 2015. The Eastern States Championships will be Sept. 4-6 at VIRginia International Raceway.