The National Auto Sport Association (NASA) Western States Championships Presented by Toyo Tires are underway at Sonoma Raceway. Competitors fromall over the western U.S. and elsewhere – some from as far as Florida – have converged on the track to fight for a national championship.
Mazdas are well represented, with a good field of Spec Miatas, plus making up the majority of the Performance Touring E and Performance Touring D classes. In addition, Mazdas can be found in Super Touring 2 and there's a Mazda-powered sports racer in Super Unlimited.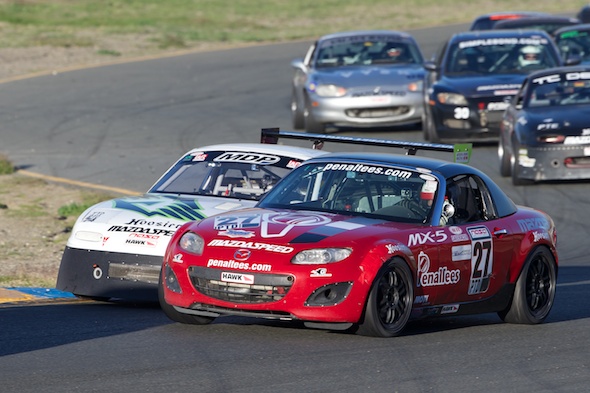 Two Routes, Same Destination
NASA's Performance Touring category follows a formulaic approach to classing cars. Each car is given a base class, and each modification adds points. Accumulate enough points, and you'll be moving up a class.
Joshua Allan and Lee Papageorge, teammates out of the Robert Davis Racing stable, have taken different routes to arrive at competitive PTD cars. Allan races an NC MX-5, which is base-classed in PTE, while Papageorge's RX-8 is based in PTD, so it is in nearly stock form.
Competition tires eat up a whole bunch of points, so that, intake air box and open exhaust is about all Papageorge can do without moving up a class. Allan, however has custom-valved, non-adjustable shocks, an intake air box and exhaust header. It's basically an MX-5 Cup car without the suspension and spec BFGoodrich® Tires.
The result is a more powerful, heavier car and a lighter, more nimble machine that turn similar lap times. Naturally, the pair notes, Allan does better at twisty, technical tracks like Sonoma Raceway, while Papageorge has an edge at a track such as Auto Club Speedway. Asked to name a track where the two are actually pretty close, they point to Mazda Raceway Laguna Seca, home of the 2015 Western States Championships.
Allan finished second in Friday's qualifying race, while Papageorge was fourth.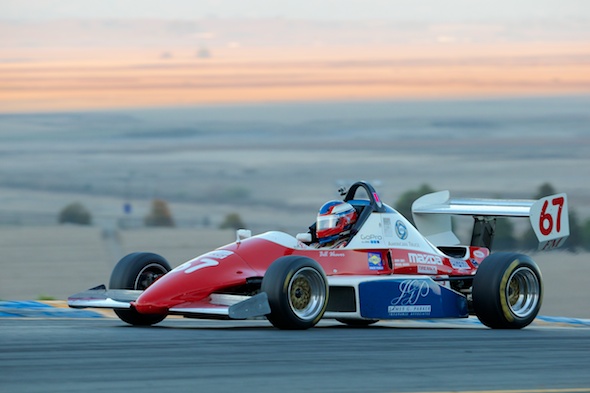 Big Weekend for Formula Car Challenge
The NASA Western States Championships weekend serves not only as the crowning event for racers in the western half of the country, it is also host to the Formula Car Challenge Presented by Goodyear National Championship. The Formula Car Challenge is trio of regional championships for the 13B-powered Formula Mazda cars and the Renesis-propelled Pro Mazda Championship cars. On the West Coast, they also add the MZR-powered FormulaSpeed 2.0, built by WorldSpeed Motorsports.
Three races will be run during the weekend to determine the national champions in each class. Two of the races will also serve as the finale for the West Coast Region, and all three will serve as the first events of the five-race Winter Series that also includes two races at Auto Club Speedway in Fontana.
Alex Keyes led most of Friday's contest in Pro Mazda, but Michael Whelden, last year's national champ and a finalist for the Mazda Club Racer Shootout, came through for the win. Bill Weaver was the top Formula Mazda driver, while Phillippe Denes won FormulaSpeed 2.0.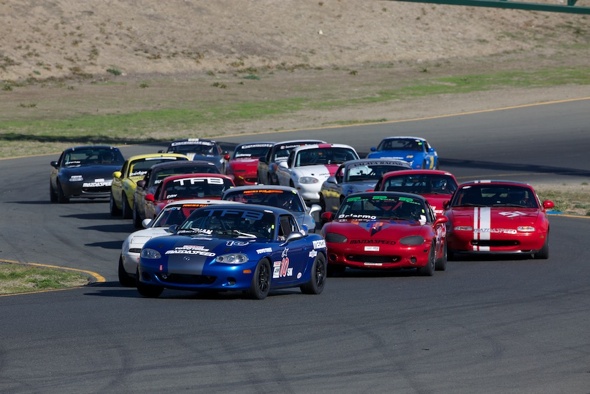 Drennan wins SM qualifier
Mark Drennan handily led every lap of the first Spec Miata qualifying race on Friday. He was followed by Kyle Loustaunau and Matthew Cresci. The finishing order for Friday's race sets the starting order for Saturday's qualifying race which, in turn, sets the starting order for the championship race on Sunday.
In the Performance Touring classes, Eric Powell won PTD in his Miata, while Randy Evans took the PTE victory, also in a Miata. Miatas swept the top five positions in PTE, while Mazdas of various models – NB Miata, NC MX-5, RX-8 and second-generation RX-7 – made up all but one of the PTD field