Michai Stephens finishes third in Walter Hayes Trophy final.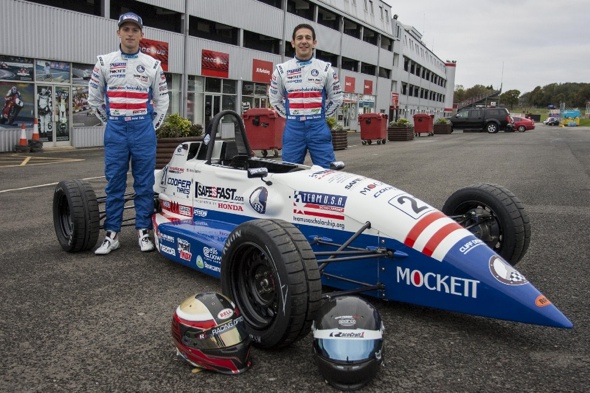 Two young racers who raced this past season with Mazda power behind them, Aaron Telitz (Cooper Tires USF2000 Championship Powered by Mazda) and Michai Stephens (Skip Barber Summer Series) have spent the past two weekends racing in the UK through the Team USA Scholarship. The second weekend just completed, the prestigious Walter Hayes Trophy at Silverstone that attracts 120 hungry racers, produced a stunning performance for Stephens to finish on the podium.
Telitz also played a starring role, fighting his way from 32nd place in the Progression race to finish 11th in the Grand Final – after no fewer than six different races on Sunday – despite being spun out by a rival midway through a thrilling 15-lap Grand Final which was won by former British Formula Ford champion and USF2000 race winner Wayne Boyd.
After being taken out in his heat race on Saturday, Telitz, 22, from Birchwood, Wis., had his work cut out even to make the 36-car grid for the Grand Final which had been whittled down from an initial entry of 118. Telitz stormed from 22nd to second in the Progression Race (which was red-flagged and restarted following an incident on Lap 3), then 32nd to fourth in the Last Chance Race to ensure 30th place on the grid for his Semi Final. Once again Telitz quickly moved forward to finish eighth (despite another red flag stoppage) and secure the 15th starting position for the Final.
Stephens' path was rather more straightforward. His fourth-place finish in Saturday's heat race meant he would start 11th for his Semi Final race, which was held on a wet track in sunny conditions. As the two pacesetters, 2013 WHT winner Scott Malvern and Chris Middlehurst, edged clear at the front, Stephens found himself embroiled in a fraught contest for the minor places. Stephens steadily and surely moved his way through to finish an excellent fourth – including a sensational pass around the outside of 2014 MSA British Formula Ford Champion Jayde Kruger at Brooklands on Lap 13 – to ensure both Team USA Scholarship cars would be in the Grand Final.
A sensibly conservative start by Stephens, 22, from Evanston, Ill., in extremely difficult semi-wet conditions saw him lose a couple of places on the opening lap, then gain two when Malvern and three-time WHT winner Peter Dempsey collided at Luffield corner. Telitz, meanwhile, had charged up onto Stephens' tail after starting 15th.
Stephens latched onto the gearbox of a charging Boyd, who had started 14th following a spin in his Semi Final, and the pair gradually began to move forward. On Lap 6, Telitz, unfortunately, fell victim to a tap from another three-time winner, Joey Foster, who was recovering from a spin while leading the race a couple of laps earlier, dropping him from ninth to 16th. By the finish, turning some of the fastest laps of the race, Telitz had recovered to 11th.
Stephens, meanwhile, driving like a seasoned veteran rather than someone competing in just his 18th race ever, posted the fastest lap of the race on Laps 5 and 7 as he continued to pick off cars. He rose to fifth on Lap 11, then third when Middlehurst and Irish champion (and 2013 Formula Ford Festival winner) Niall Murray out-braked each other, and themselves, at Brooklands on lap 13. With two laps to go he was within touch of the race leaders, Boyd and Robert Hall, who then exchanged places twice at Brooklands during a thrilling final lap. For a moment it seemed as though the race win might be within Stephens' grasp, but Boyd and Hall somehow held it together to take first and second, with Stephens a scant 1.053 seconds behind the race winner.
In the previous weekend's Formula Ford Festival, Telitz claimed two victories in the races leading up to the final, but spun while challenging for the lead in the feature race.