Jonathan Bomarito Returns to the No. 70 Mazda for the 2015 TUDOR United SportsCar Season.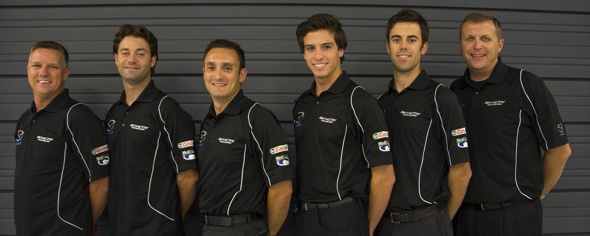 A driver with extensive history and success in Mazda-powered open-wheel cars and RX-8 sportscars will return to the Mazda SpeedSource team for the 2015 IMSA TUDOR United SportsCar Championship. From 2010 through 2012, Jonathan Bomarito amassed 13 podium finishes and four victories with Mazda. His previous stint was also highlighted by his role on the 2010 ROLEX 24 at Daytona GT class-winning team and the 2010 Grand American Road Racing Series Rookie-of-the-Year award. Now he returns to SpeedSource Race Engineering and Mazda to pilot the No. 70 Mazda SKYACTIV-D Diesel Prototype.
"I feel as though I'm coming home to be back with Mazda," says Bomarito. "It excites me to see what the future holds with SpeedSource and Mazda in the prototype class. This program has been about development, and I'm honored to come on board to add to this collaboration and watch it continue to grow. It's a great feeling to be back in the No. 70 car with Sylvain Tremblay. It all started for us when we won the Rolex 24 Hours of Daytona in 2010. I can't think of a better way to kick off the 2015 race season."
Bomarito will be one of the four full-time drivers in the Mazda prototypes. SpeedSource owner/driver Sylvain Tremblay will focus more on team management, but will remain a third driver for the four endurance races – Daytona, Sebring, Watkins Glen and Road Atlanta. Bomarito will partner with Tom Long, Joel Miller and Tristan Nunez; the final pairings will be determined during pre-season testing. Ben Devlin will also continue with the team for the four endurance races.
"The racer in me only wants to drive," says Tremblay of his new role. "But the team owner knows that developing a program like the SKYACTIV-D Mazda Prototype requires every person to operate at their highest level. We're thrilled to have Jonathan back with SpeedSource. I'm happy that I will remain as his co-driver as we both want at least another couple of Rolex watches."
Bomarito was driving a GT car for a different manufacturer the past couple of years and was in the hunt for the GT Le Mans drivers title to the final race of the season. Even so, he was pursued by Mazda long before the 2014 season ended.
"With Jonathan challenging for a GT championship this past season, we held off on making this announcement, but we had this wrapped up two months ago," says John Doonan, Director of Motorsports, Mazda North American Operations. "Jonathan will be a great addition to the team as we continue our engineering development of the Mazda Prototype. Jonathan is respected and loved by the team as well as Mazda fans. We're happy to have him back in the family."
The Mazda SKYACTIV Prototype will be in its second year of an ambitious five-year engineering development program in 2015. The season kicks off with testing in The Roar Before The Rolex 24 at Daytona International Speedway on Jan. 9-11. The first race, the Rolex 24 at Daytona, happens a couple of weeks later on Jan. 22-25.