A turn-by-turn breakdown of the Sonoma Raceway with a filled out track map, turn-by-turn description, and voiceover onboard footage from the BEHIND THE ZOOM team.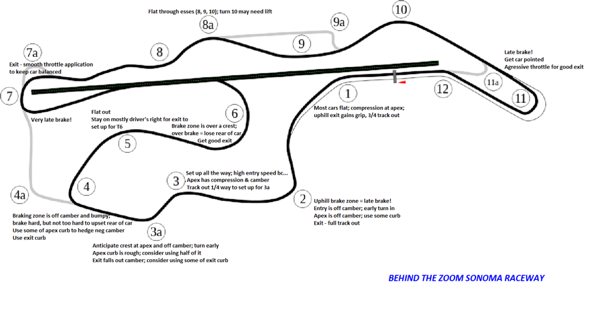 The National Auto Sport Association (NASA) heads to Sonoma Raceway for its Western States Championship next week on Nov. 7-9. Just like with its Eastern States Championship in September, the event will crown champions in several categories on the challenging California Wine Country track. We turned to our BEHIND THE ZOOM team, many of who have several victories at this track.
According to Mazda factory driver and IndyCar Rookie of the Year Tristan Vautier, who has raced and won at this famed circuit, "Sonoma is fast, but has several camber changes, making this a technical track that rewards precision. On the course the [NASA] racers will compete, this is no exception." For this race weekend, NASA competitors will use the traditional layout, or "long course" – the Carousel, long Turn 7 (not NASCAR 7/Jug-handle 7/7a), NASCAR 9, 10 and 11. Mazda Factory Driver and Professional Driving Coach Joel Miller also weighed in. "This layout of Sonoma will test your determination and skills. There are corners where you will need to summon your bravery and commitment."
| | | |
| --- | --- | --- |
| To help our Mazda drivers succeed here, the BEHIND THE ZOOM team has provided a filled-out track map with key takeaways and a more detailed turn-by-turn description account. According to Mazda Factory Driver and Professional Driving Coach Tom Long, "Track maps are great to review prior to your trip to any track and to re-create after each session you are on track." | | |
To top it off, Joel Miller and Tristan Vautier agree that there is nothing better than to review track notes and then watch video, looking for those intricacies noted. So Tristan Vautier provided his onboard video from when he set the pole lap in qualifying (lap two of two on the video) in Pro Mazda in 2011. While this is not a sports car, and the quality is not HD, he did provide a voiceover of his first lap, pausing at each corner to break it down. You will see and hear about the compressions and camber in the road, the curbs, and much more. Although Tristan drove the IndyCar Series course in this video, we are confident you will find his insights to be very valuable… and if we may say so, very impressive. Keep watching, because, as a bonus, Vautier and Miller will dissect Turns 3 and 3a.
To add another educational video, we turned to Brian Ghidinelli for his exceptional race footage (lots of passing) of the Sonoma Sprints Spec Miata race No. 2 in 2013. Enjoy.