Second year of dual championships sees new tracks hosting the Eastern and Western States Championships.
The National Auto Sport Association (NASA) has chosen Mazda Raceway Laguna Seca and VIRginia International Raceway for its second annual, twin 2015 NASA Championship presented by Toyo tires events.
In 2014, NASA decided to enhance what had been traditionally a single National Championship event into the country-splitting Eastern and Western States Championship events. This move was designed to make the events much more accessible to a wider range of NASA competitors providing each coast with an event much closer to home.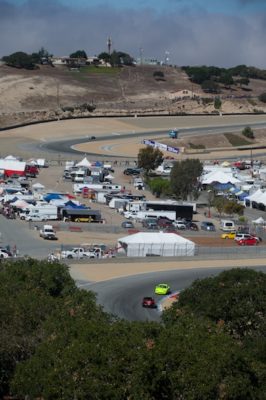 "The move to a dual-Championship event format was well received in 2014," says Ryan Flaherty, NASA National Chairman. "We expect a very positive response from our members upon learning that the Championship events will move to Mazda Raceway Laguna Seca and VIRginia International Raceway. These are two world-class tracks revered in the motorsports community, each offering a fantastic set of challenges our competitors must overcome to be crowned NASA Champions. We look forward to visiting each of these amazing facilities in 2015."
This move provided competitors the opportunity to compete at and experience a Championship-level event all set over a shorter three-day format, again designed to decrease the expense and time requirement a Championship-level event can present competitors. This change has been well received, as nearly 600 entrants will have competed for Championship titles at the conclusion of the 2014 season. Unprecedented in club racing, NASA also worked with its partners to offer more than $2 million dollars in contingency prizes available through a vast network of generous contingency sponsors.
NASA competitors will make their way toward Mazda Raceway Laguna Seca for the 10th annual running of the event for the Western States Championships that will begin July 31 – Aug. 2, 2015.
"We are proud to extend our relationship with NASA and to be chosen to host their 2015 Western States Championship event," says Gill Campbell, CEO/general manager of Mazda Raceway Laguna Seca. "Our challenging 2.238-mile natural terrain road course coupled with our inviting locale is sure to draw a large field of competitors and family members eager to race and enjoy everything the Monterey Peninsula has to offer."
The NASA Western States Championships at Mazda Raceway Laguna Seca also presented a special synergistic opportunity considering Mazda is the track's title sponsor and the Official car of NASA.
"We can't imagine a better pairing of tracks for the 2015 NASA Championship," John Doonan, Director of Motorsports at Mazda North American Operations, says. "Mazda has thousands of racers competing with NASA, and it will be great to host all of the competitors at our home track. Simply based on its characteristics, we have often said that VIR is the East Coast counterpart to Mazda Raceway, and we expect both tracks will be popular choices."
The Eastern part of the Championship event will be at VIRginia International Raceway Sept. 4-6, 2015.
"VIR is ready to open its gates to the 2015 NASA Eastern Championships," says Mike Rose, VIRginia International Raceway Director of Marketing. "We hold several NASA events every year and competitors come to Danville, Va., from all over the country to compete for the Championship crown. We're honored to host this fantastic event."
Continuing to grow in popularity, 2015 will see NASA crown Champions for the 10th consecutive year. It will take both consistency and tenacity to persevere at either event where competitors will be required to complete two qualifying races to attain their starting position for the main event. NASA expects to crown Champions in 35 classes at each event over three days of intense competition.