Daniel Bender wins Touring 4 in an MX-5, followed by two other Mazda drivers.
Leading a Mazda sweep of the podium, Daniel Bender, of Northbrook, Ill., notched his first National Championship title in convincing fashion at the SCCA National Championship Runoffs at Mazda Raceway Laguna Seca. Tom Wickersham, of San Ramon, Calif., came home second, followed by polesitter Izzy Sanchez, of San Mateo, Calif.
Sanchez, in his RX-8, led the first eight laps, with Bender hounding him until the restart after the second of two full-course cautions that consumed three laps total. Bender made the most of the second restart to take the lead.
On the lap-nine restart, Bender, in his No. 15 Bravo Trailers/BFGoodrich® Tires/Autobarn Mazda Mazda MX-5, got the run he needed and was able to complete the outside pass in Turn 2 to take the lead from Sanchez. From there, Bender flexed his muscle by walking away from the field, finishing with a six-second margin of victory.
Once Bender got around Sanchez, Wickersham smelled blood in the water and was determined to get to second. However, it wasn't until the penultimate lap that Wickersham was able to get his MX-5 past Sanchez for the second position in a Turn 2 pass that earned Wickersham the GoPro Hero Move of the Race.
Finishing just off the podium, in fourth, was Ali Naimi of Morgan Hill, Calif., in an MX-5.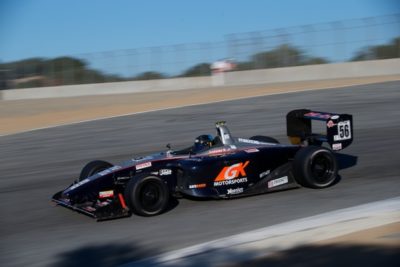 Kearby Wins Formula Atlantic
Seventeen-year-old Conner Kearby, of Corpus Christi, Texas, was the youngest winner of this year's SCCA National Championship Runoffs, claiming the Formula Atlantic title over Sedat Yelkin, of Austintown, Ohio. Bruce Hamilton, of Monkton, Maryland, was third. All three drivers utilized Mazda power in their Swift chassis.
Kearby started sixth, but kicked off the race with a tremendous start, moving his No. 56 GK Motorsports Swift 016a Mazda to third in the opening lap.
By lap five, Kearby was into second and chasing down the leader and Tire Rack Pole winner, Michael Mallinen. What started as a 2.5-second gap was quickly eroded when Mallinen began to slow with a gearbox issue. Kearby was around Mallinen and into the lead on lap 7.
A late-race full-course caution bunched up the field and erased Kearby's 12-second lead, but he was fortunate to have some slower cars as a buffer between him and Yelkin.
Kearby's drive from sixth on the grid to victory also earned him the Sunoco Hard Charger Award, the GoPro Hero Move of the Race Award and he is now eligible for the Mazda Club Racer Shootout and a $75,000 ride in the 2015 SCCA Pro Racing Mazda MX-5 Cup.
Save for one attempted pass at the hands of Fabio Castellani, Yelkin's race was pretty tame after Kearby went by. Starting eighth in his No. 36 Team K-Hill Swift 016a Mazda, Hamilton used patience to pick his way through the Formula Atlantic field.
Hamilton was running in sixth when he came through Turn 11 and saw the disabled cars of Richard Zober and Lewis Cooper, who had been battling for fourth. That incident brought out the lone full course caution. He picked up one more spot on after the restart to claim his first Runoffs podium.
Those who have been around the SCCA National Championship Runoffs long enough are well familiar with the saying that says something to the effect of, "It's not over until the 21st lap." For the uninitiated, the Runoffs races at Mazda Raceway Laguna Seca are scheduled for 20 laps. That 21st lap refers to post-race tech inspection, Stewards' decisions and the Court of Appeals. In other words, provisional results are just that – provisional.
In no class was that more true than in Spec Miata. Erik Stearns, of Van Buren, Ohio, was named 2014 SCCA Spec Miata National Champion Sunday after the first six cars from Friday's race at Mazda Raceway Laguna Seca were penalized following post-race inspection for unapproved modifications.
Stearns started the 20-lap, 45-mile race at the 11-turn, 2.238-mile circuit in 12th position in his No. 97 East Street Racing/Eds 24 Hour Service 2000 Mazda Miata. He moved into the top 10 on lap three, and advanced to seventh on lap 17, a position he would hold until the checkered flag.
Seventh place is the lowest position a driver has ever crossed the finish line and been crowned champion in the 51 National Championship Runoffs events.
More Penalties Issued
It was on-track driving infractions that moved David Ferguson and Mark Mercer, the Mazda-powered drivers that finished first and second, respectively, in Prototype 2, down a couple of positions. Both were penalized one position due to passing under yellow, and officially finished second and third behind Fabian Onkoski.
SCCA National Championship Runoffs

Mazda Raceway Laguna Seca
Oct. 7-12, 2014
Mazda Podium Finishers
| Class | Position | Driver | Hometown | Car |
| --- | --- | --- | --- | --- |
| T4 | 1 | Daniel Bender | Northbrook Ill. | MX-5 |
| T4 | 2 | Tom Wickersham | San Ramon Calif. | MX-5 |
| T4 | 3 | Izzy Sanchez | San Mateo Calif. | RX-8 |
| STL | 2 | Brian Laughlin | Tulsa Okla. | Miata |
| EP | 1 | Matt Reynolds | Boerne Texas | Miata |
| EP | 2 | Jim Daniels | Germantown Tenn. | Miata |
| EP | 3 | Aaron Downey | Rossmoor Calif. | RX-3 |
| FP | 3 | Eric Prill | Topeka Kan. | Miata |
| GTL | 3 | Jonathan Goodale | Conifer Colo. | Miata |
| P2 | 2 | David Ferguson | Los Gatos Calif. | Mazda Van Diemen |
| P2 | 3 | Mark Mercer | Aurora Colo. | Lola 90 Mazda |
| FA | 1 | Conner Kearby | Corpus Christi Texas | Swift 016a Mazda |
| FA | 2 | Sedat Yelkin | Austintown Ohio | Swift 014a Mazda |
| FA | 3 | Bruce Hamilton | Monkton Md. | Swift 016a Mazda |
| FM | 1 | Mike Anderson | Anza Calif. | Star Formula Mazda |
| FM | 2 | Alan McCallum | Houston Texas | Star Formula Mazda |
| FM | 3 | Stuart Rettie | Houston Texas | Star Formula Mazda |
| SM | 1 | Erik Stearns | Van Buren Ohio | Miata |
| SM | 2 | Matt Schultz | Clackamas Ore. | Miata |
| SM | 3 | Matt Reynolds | Boerne Texas | Miata |