Matt Reynolds wins the National Championship as Mazdas fill the podium.
Mazda swept the podium in E Production at the SCCA National Championship Runoffs at Mazda Raceway Laguna Seca, with a pair of Miatas and an RX-3 running up front for the entire race. Matt Reynolds, of Boerne, Texas, earned his first National Championship, while Jim Daniels, of Germantown, Tenn., and Aaron Downey, of Rossmoor, Calif., completed a Mazda podium sweep.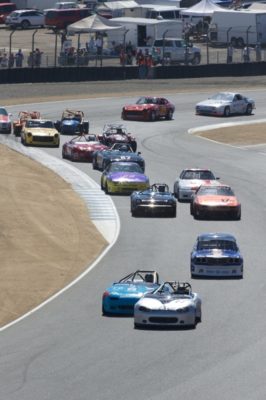 One year after having a Championship taken away due to on-track contact, Reynolds' run was clean and dominant, leading all but one of the 20 laps around the 2.238-mile circuit. The 27-year-old started his No. 71 Reynolds Brother's Racing/Jesse Prather Motorsports/Vintage Connection Mazda Miata from the Tire Rack Pole Position, but saw second-starting Daniels muscle past and into the lead at Turn 3. Daniels led the first circuit, but then ran wide at Turn 6, allowing Reynolds to slip past. From there, Reynolds sped away to a 20.276-second victory.
Daniels, who led the first two qualifying sessions in his Miata, matched his career-best finish at the Runoffs of second. Downey started fifth in his RX-3, but moved to the lead battle immediately in the race's opening laps behind the Miatas.
Reynolds earned the GoPro Hero Move of the Race for his dominating performance.
Reynolds becomes first Super Sweep winner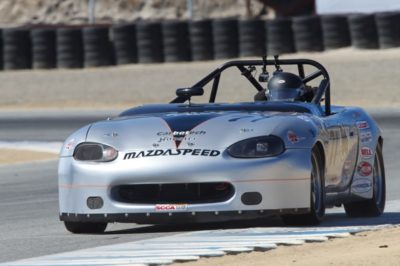 Reynolds became 2014's first Super Sweep award winner, for a SafeRacer SCCA Club Racing driver that wins the nation-wide point championship, a U.S. Majors Tour Conference Championship, one of 10 key events in the Majors calendar and the National Championship Runoffs. Reynolds is also qualified to participate in Mazda's Club Racer Shootout, which will award one driver with a scholarship to compete in the 2015 SCCA Pro Racing Mazda MX-5 Cup Presented by BFGoodrich® Tires.
Mazda Power Takes Prototype 2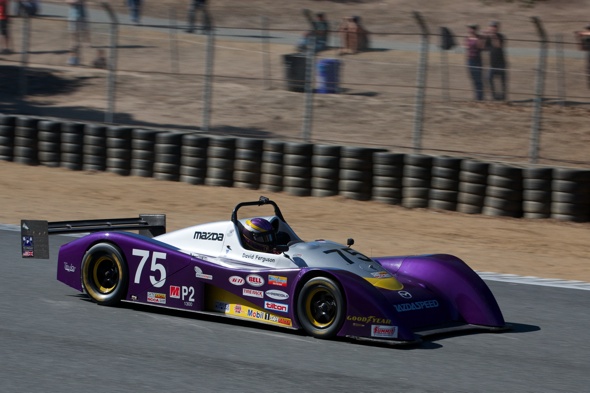 Reynolds' victory wasn't the first Mazda win of the day. That happened in the Prototype 2 race, the second race on the second day of the 2014 Runoffs. David Ferguson, of Paso Robles, Calif., ran a smart and patient race in his Veracity Racing Data/Mazda Mazda Van Diemen RFS-03 to win his first gold medal. The only other Mazda-powered driver in the field, Mark Mercer, finished second in his Hoosier Tire/Ferenco Lola 90 Mazda.
Ferguson successfully avoided an opening-lap skirmish in Turn 2 and moved from sixth to fifth while avoiding a spinning car. The incident brought out the first of three full-course cautions in the P2 race. On the first restart, Ferguson once again deftly avoided the madness ahead of him as the top three aggressively jockeyed for position. Taking advantage of missteps made by the cars ahead, Ferguson moved into third by the next full-course caution period.
On the ensuing restart, Ferguson watched as Fabian Okonski made a pass on leader Robert Kazen. He used the situation to move himself around Kazen and into second. Ferguson then set his sights on Okonski, making his move into the lead in Turn 9 and continuing on to victory.
This is the first year of Prototype 2, which combines cars from the old D Sports Racing class and Sports 2000 chassis with added wings and alternate engines, such as Ferguson's Van Diemen.
Mike Anderson Wins Formula Mazda
Mike Anderson, of Anza, Calif., brought home his first SCCA Formula Mazda National Championship after three runner-up finishes in four prior attempts. Houstonians Alan McCallum and Stuart Rettie finished second and third, respectively.
Anderson started the race on the Tire Rack pole, in his No. 42 HASA/Whiteflyer Formula Mazda, and was able to take home the win in the 20-lap race, which was slowed by one full-course caution. However, it was anything but an easy flag-to-flag run.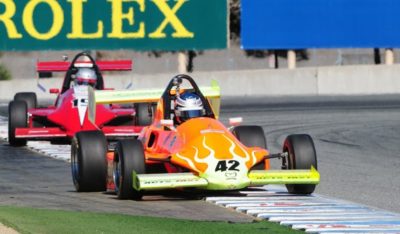 Defending champion Darryl Wills led the first 13 laps until he was black-flagged for a sound violation, elevating the Anderson-McCallum battle for second to a fight for victory. Following the full-course yellow, which started on lap 16 and lasted for two laps, the race was on for the win between Anderson and McCallum.
McCallum bided his time and got around Anderson on the next circuit. After McCallum took the white flag, it was Anderson's turn to jump to the lead under braking for Turn 2, a pass that earned him the GoPro Hero Move of the Race.
Rettie, in his No. 21 Hillenburg Motorsports/Speed Connection Formula Mazda, took home his first Runoffs podium finish in his fourth attempt.
Brad Drew, of Trabuco Canyon, Calif., started the race in 14th and was able to finish seventh, earning him the Sunoco Hard Charger award.
ALL RESULTS ARE UNOFFICIAL PENDING COMPLETION OF TECH INSPECTION.