The qualifying picture begins to emerge as some competitors overcome hardships to make their race.
Eric Prill topped the second qualifying session for F Production by nearly half a second in his MaxtonsFight.org/JPM/Hoosier Miata, an eternity around Mazda Raceway Laguna Seca. The bad news for his competitors? He felt that he left some time on the track on his best lap due to a bobble in Turn 11. The Thursday qualifying session will be in hotter conditions, making faster laps unlikely.
Other top Mazda qualifiers after two of three sessions include Jim Daniels, who has topped both E Production qualifying sessions in his Miata. He was followed by Matt Reynolds (Miata) and Jesse Prather (MX-5). Mazdas have so far claimed the top eight spots in EP.
Daniel Bender and Tom Wickersham lead Touring 4 in their MX-5s, with Bender's fast time from Tuesday's session holding up so far. Brian Laughlin topped the Street Touring Lite times in his Miata. Mazda power is leading in Formula Atlantic, with Michael Mallinen holding the top spot.
In the Spec classes, Mark Drennan has led both sessions in Spec Miata. Alan McCallum went faster on Wednesday to claim the provisional pole in Formula Mazda.
Except for Formula Mazda, none of the times improved in the classes that had afternoon qualifying sessions on Wednesday, clearly indicating that the cooler conditions are more conducive to faster times. E Production, GT Lite, Formula Mazda and Spec Miata are among the groups that will be qualifying before lunch on Thursday.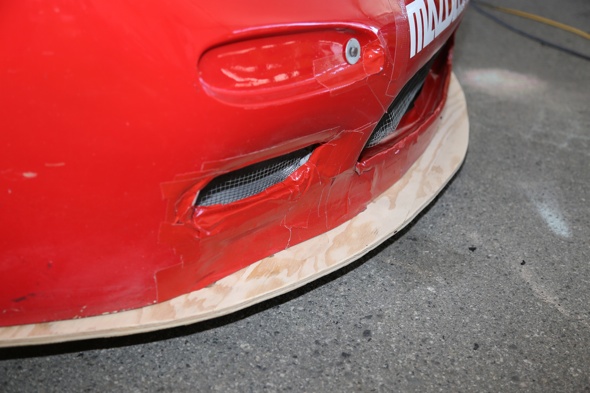 Nose Job
The bad part of racing is there are always hard-luck stories in the paddock. But those hard luck stories often come with stories of generous help from fellow competitors. Rob Warkocki has experienced both at this Runoffs. The defending GT-3 champion went off track in his RX-7 coming through the very fast Turn 9 during testing on Monday. He ripped the nose off his car and then ran over it. With no spare, it looked like Warkocki's week might have been done.
Fortunately for him, Mazda Business Development Manager David Cook was on the scene, and went and found the various pieces of Warkocki's nose where the track workers dump the broken fiberglass and carbon fiber bodywork and brought it back. Former E Production champ Jon Brakke lent a hand putting the nose back together while Warkocki was trying to solve an exhaust noise issue. Mazda SKYACTIV Diesel Prototype driver Tom Long, at the track to do some coaching, also lent a hand until midnight Tuesday and returned early Wednesday to help put everything back together so Warkocki could make it out on track Wednesday morning.
Warkocki did have to come up with a splitter, though, which a trip to Home Depot for a sheet of plywood cured. He also made some suspension changes based on input from Long that he says helped his front-end grip.
Record Numbers
F Production Miata racer Mark Weber will be be making a record 52nd Runoffs start on Friday if all goes according to plan. Weber has competed in multiple classes over his Runoffs career, often competing in two in any given year – usually in the same car – and as many as three. The Miata he races in FP he also entered as an E Production car one year to double up. He is working on his 34th consecutive Runoffs.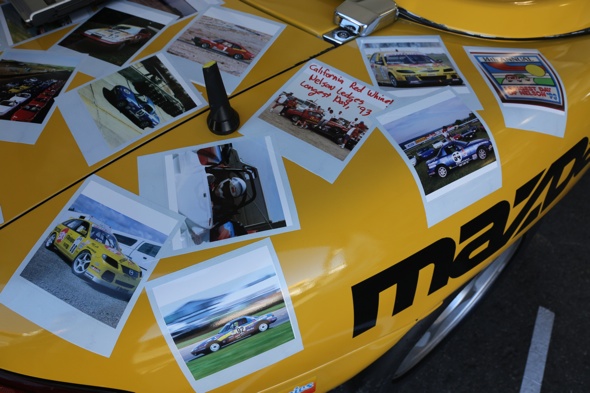 Fast Photo Album
Spec Miata driver Joey Jordan is young, but his family has a long history in racing, with father Joe and uncle Jim going back a couple of decades including everything from club racing to the top levels of professional sports car racing. Much of that history involves Mazdas, and for anybody wandering by the Mazda tent in the Mazda Raceway Laguna Seca paddock, that history is on display. The back of Joey's SM is covered in photos chronicling the Jordans' racing history, from RX-7s at the Longest Day of Nelson Ledges to the Mazda6 they ran in World Challenge.