Mazda Motorsports introduces AiM MXL2 and Solo systems.
There's no question that data acquisition is a valuable tool for racers. To get some ideas on how to use it, see here and here. But to use data, you first have to collect it. So Mazda Motorsports  offers several AiM Sports data acquisition units to allow you to collect the same sort of information as the pros.
"We recognize the value and overall capability of AiM products compared to other race data acquisition manufacturers on the market," says David Cook, Mazda Motorsports Business Development manager. "It's the reason we choose the AiM MXL PISTA as the official race data acquisition system for our Mazda MX-5 Cup racing series."
AiM MXL2 PISTA (Part No. 0000-10-9303); price $1,998.00
The AiM MXL PISTA is the most powerful unit that Mazda Motorsports sells. It not only includes the data acquisition unit, but a configurable dash display. It's the unit used in the MX-5 Cup, so naturally it will work with the current generation MX-5; but it can also be used for many other Mazda vehicles including the RX-8, Mazda2 and Mazda3. It uses a combination of an (optional) GPS system, internal accelerometers and information pulled from the vehicle's OBDII port to give the user a complete picture of each lap, which is downloadable to a PC for analysis with Race Studio software.
The 5.5-inch display with backlight will show RPM by number and graphic curve, and is scaleable to a user's specific application. It also has 10 shift light LEDs and six configurable alarm LEDs.
The data acquisition system has RPM and speed inputs, will record lap times and split times via infrared lap receiver/transmitter, has 8 MB of internal memory and has an RS-232 interface to connect with many ECUs. It also has eight analog input channels for temperatures, pressures, potentiometers, Lambda sond and other custom sensors. It samples data, depending on input type, from 50 Hz to 500Hz. It comes in a rugged, water-resistant aluminum chassis that measures only 6.85 by 4.33 inches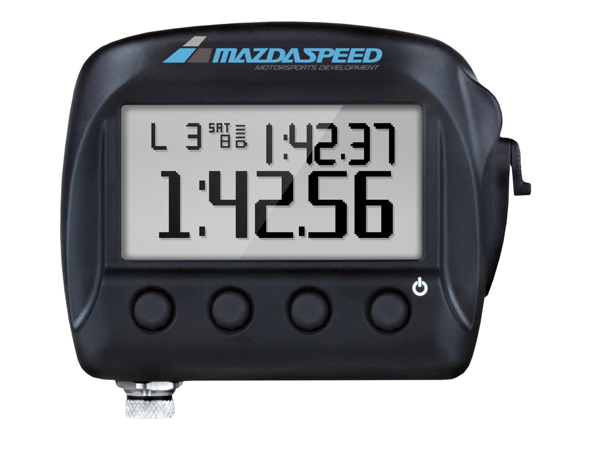 AiM Sports SOLO (Part No. 0000-10-9301); price $349.00For those seeking a more budget alternative, the AiM Sports SOLO  may be the right choice. Powerful, yet affordable, it can be used on all Mazda vehicles. It has high-speed GPS, internal accelerometers, expansive memory and offers USB download. Beyond just a data logger, it's also a predictive lap timer offering a constantly updating display of your current lap pace or, if you prefer, a plus or minus time from your best lap time.
The data logging includes lap times, speed, track position, lateral and longitudinal g-forces, yaw rate and more, all at a rate of 10 Hz. At the end of a session, you can download it to a PC or just hit the memory button to see your three best lap times, or even your full lap-time history. Downloaded to your PC, you can create split times to see sector times for each lap. This nifty little feature will also tell you what your theoretical "best lap" could be.
AiM SOLO DL (Part No. 0000-10-9302); price $548.00
The next step up from the SOLO is the SOLO DL, which includes all the features of the SOLO plus vehicle data logging pulled in from the OBDII port or from many aftermarket ECUs. You can log RPM, temperatures, throttle position and many more parameters to go deeper in your analysis. You may think you were flat-out through the Kink, but the data can tell you if you truly were or not.
The SOLO DL can access data on the 2006-on MX-5, the RX-8, Mazda3, MAZDASPEED3 and the Mazda2.
All three AiM data acquisition units are available now from Mazda Motorsports at special Mazda Team Support Program member-only pricing. Log in now or call 800.435.2508
to see how you might gain an edge at the next race or in the next season.