Grids set for National Championship races at Road Atlanta.
The National Auto Sport Association's (NASA) ninth annual NASA Championships presented by Toyo Tires Eastern States Championships has set the grids for Sunday's championship races at Road Atlanta.
In the second Spec Miata qualifying race of the weekend, the 34 competitors that took the start were racing in near 100-degree air temperature. The field was brought to the green flag by Friday's race winner, local driver Matthew Pombo in his No. 60 Miata. Pombo surrendered the lead on lap two to Danny Steyn's No. 39 Miata. By lap four the duo were hooked-up nose-to-tail and working together and managed to separate themselves from the rest of the field. On the last lap Pombo was able to get around Steyn in the third-to-last turn to secure his second qualifying race win of the weekend. The duo finished nine seconds ahead of third-place runner Alex Bolanos in the No. 57 Miata. Pombo relayed that he hoped that winning the two qualifying races does not put a jinx on him for the Championship race on Sunday.
Another local racer, Christian Tetzlaff, has his No. 123 2006 Mazda MX-5 at the NASA Championships competing in the Time Trials D Class. Tetzlaff is using the weekend as a teaching tool for his students – he runs the Motorsports Vehicle Technology program at nearby Lanier Technical College in Oakwood, Ga. Running in third place, so far, he is looking forward to a full two days of competition. He teaches students in the classroom about the MX-5 and he even has a few pupils at the track getting hands-on race weekend experience.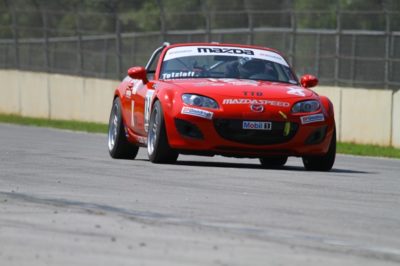 Tetzlaff likes that Mazda provides the best support of any manufacturer he has ever seen. Working through the MAZDASPEED program, he gets parts support as well as contingency money based upon performance.
Ben Anderson is another Mazda enthusiast competing at the NASA Championships this weekend. He brought his second-generation Mazda RX-7, which is entered in the PTE Class. Anderson has been racing the No. 38 blue Mazda for five years. The team likes the simplicity and reliability of the RX-7. They point to ease of maintenance and the overall handling as key aspects to running the car as well is it being just plain fun to drive.
The championship races and final rounds of Time Trials competition happen on Sunday at Road Atlanta.