Mazda racers seek NASA championships at Road Atlanta.
The National Auto Sport Association's (NASA) Eastern States Championship takes place this weekend at Road Atlanta. For the first time since the organization started having a national event, it's splitting it into two different events to encourage more participation on both sides of the country.
"We moved it from Mid-Ohio to Miller Motorsports Park [Utah] and had a back and forth to try to service both coasts as best we could," says NASA's National Events Manager Will Faules. "You end up with a big regional event where the participation is largely local. So the idea came: What if we could service our members by rotating every year, instead of just two tracks, add other tracks? If that rotation was taking too long to service people, why don't we do two and service everybody in one year? It seems to be a big hit."
With more than 300 entries, that appears to be the case. Not only has NASA created two events, but it's shortened it as well with the intent of not only making it closer, but more accessible as well.
"We've shortened it from four days of racing to three days, with almost the same amount of track time – we took away one qualifying session. In this day and age of amateur motorsports, it's huge. That's one less day to be out of the office, one less day they need a hotel room, on less day they've got to pay crew. Time Trials is now only two days of competition," says Faules.
One challenge facing NASA was its contingency programs, and how to make sure competitors had access to similar payouts while having two events. Faules says that NASA's director of sponsorship, Jeremy Croiset, has managed to work with the organization's partners to expand the contingency programs. That includes Mazda, which will pay $3500 to Mazda competitors for a win in the racing classes if there are 10 or more starters, down to $350 for fifth place. Time Trial competitors can earn up to $500.
Even better is that every winner from a racing class will be eligible for the opportunity to compete in the NASA Race of Champions Presented by NASA. Participants will compete in identically prepared MX-5s on a professional race weekend. The winner will receive an automatic invitation to compete at the Mazda Club Racer Shootout and the scholarship to compete in the Mazda MX-5 Cup Presented by BFGoodrich® Tires that goes with winning the Shootout.
"That's huge. There are people still calling me that can't quite grasp the concept of just how big it is. There's going to be huge time and resources put into this. We've already started looking at premier events to slot this race into. This is giving a huge opportunity for anybody that wins their class to potentially show up and race in this Race of Champions. There is a huge desire in anybody that runs a NASA event to someday be a pro. What we've done in partnering with Mazda is to make a complete, streamlined, accessible ladder for anybody who's never driven on a track to come from driving with an instructor to go all the way to driving in a professional event in one program," Faules says.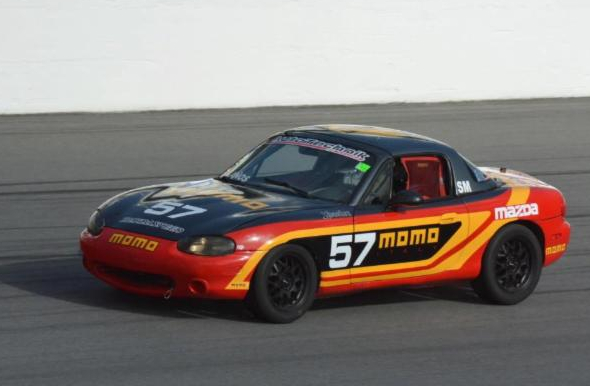 One of those hoping to earn an invitation to the Race of Champions by winning Spec Miata is Florida's Alex Bolanos. He's been in contention for the last two years and is looking for a victory at Road Atlanta.
"I qualified for the Championships at Sebring by getting the pole, setting fast lap and winning in all four races," Bolanos says. "I am driving my No. 57 Spec Miata sponsored by Momo, Autotechnik, and Apex Alignment. I've raced at Road Atlanta twice a year for the past few seasons. I have over seven podiums and a win in this year's SCCA Major there. My goal is to win. I was in the hunt in 2011 at Mid-Ohio and had a hub failure and finished a close second in 2012 to Yannis [Tsiounis]. I see Yannis and Steyn [Danny] being strong and I am sure there will be locals in the hunt as they were at Mid-Ohio. I was second in TTE in 2008 at the Championships. In 2011 I won one of the qualifying races and had a failure during the race in SM and in 2012 I finished second in SM."
The NASA Eastern States Championship kicks off today at Road Atlanta. The Western States Championship will take place at Sonoma Raceway in California on Nov. 7-9.