Compared to blasting through narrow gaps in trees on a motocross bike, shoving an MX-5 in between a competitor and the apex of a corner is a piece of cake.
Jason Cherry has done both. The young racer started out in motocross and enduro racing/hare scrambles. He thought the next step was going to be bikes on asphalt, with MotoGP an ultimate goal. There was, however, an obstacle to attaining that dream.
"The idea of two wheels on asphalt freaked by mother out, so she suggested trying auto racing," Cherry says.
Thus the 17-year old from Annapolis, Md., finds himself racing an MX-5 in the Pirelli World Challenge Touring Car A championship in his first full season of racing on four wheels.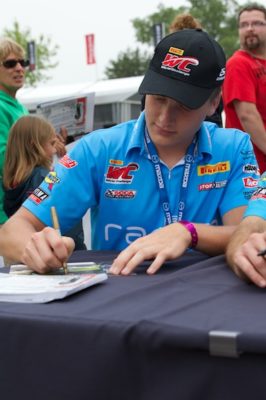 "I went to Bertil Roos racing school at New Jersey Motorsports Park in April of last year, completed my competition school and the instructors there followed up with me after the school because I did fairly well there and they helped guide me in some different directions in racing," he says. That led him into formula cars, Continental and F, before he realized that the open-wheel ladder was a very expensive route. "It didn't have the following I needed – especially coming from a smaller-funding background and with no racing experience, no family racing experience. I was supposed to be running the F1600 series earlier this year. About three weeks prior to that, we decided we were going to move into closed-wheel cars due to better marketing and sponsorship opportunities."
They found a car, found a team, put it all together in two weeks and raced the MX-5 for the first time at Barber Motorsports Park. He finished second in TCA – the gentleman racer's division of Touring Car – in that first race and has backed that up with four more podium appearances. Naturally, he says he's happy with his decision to go racing in World Challenge.
"For the expenses associated with it and this new, developing class, it was shaping up as a really good platform. It has a good ladder within itself. I really wanted to surround myself with the drivers that I wanted to be, such as Chris Dyson and Lawson Aschenbach. All the pro drivers are at the track when I'm there. I wanted to get my face out there and friend a lot of these people, understand how they got to their point and hopefully have them help guide me along the way," Cherry says.
Much as he feels the series has been the right one, so Cherry feels that the choice of the MX-5 was correct for him.
"The MX-5 appeared to be the the best-handling platform and Mazda has a really good contingency program where they like to stand behind their drivers and provide support any way they can. I wanted to be in a rear-wheel-drive car, especially since I plan on being in higher-horsepower rear-wheel-drive cars later. So I wanted that experience of having the car step out on me in the rain and be able to save that. It's proven to be the ideal platform for me," he says, while noting that the car has different strengths compared to the competition. "They have more power, but I've thoroughly enjoyed having to keep up with these cars that have higher horsepower and catch them in the turns. It's causing me to push the car and push my driving experience and learn a lot."
Pirelli World Challenge seems a long way from motorcycle enduro racing, but Cherry feels that what he learned in that form of motorsport is helping him with this one.
"I was running both motocross and also hare scrambles, which are two-hour endurance races. That taught me a lot about physical fitness. That got my butt in shape, to say the least. Feeling what the bike is doing underneath you and what the suspension is doing and interpreting different feelings really transferred over to cars. You just understand what the car is doing before something snaps and before something goes wrong. It also taught me a lot about racecraft, now that I think about it. We ran 12-mile courses and we weren't allowed to look at the course before running it, so our first lap was everyone's first lap seeing it. You had to adapt to the environment very quickly and pick up speed very quickly," he explains.
Cherry says he doesn't have any grand plans in racing, an ultimate goal like Le Mans or Indy cars or Formula 1. Nope, he'd just like to make a living at it, ideally associated with a manufacturer. If his early results are any indication, he might just be able to live that dream.
The Pirelli World Challenge Touring Car Championship, including TCA and TCB, resumes action this weekend at Mid-Ohio Sports Car Course.