A lot has happened since the beginning of the season. We are halfway through the season which consists of 12 races and I am currently in the championship lead with a 55-point gap to second with six wins and two seconds. Heading into the season I was optimistic about where I would stand relative to the competition and I felt I could be in the top five or so. To be on top halfway through the season is a major confidence booster for me.
Mazda Raceway Laguna Seca, which was the host to Rounds 3 and 4, was a major turning point for me. Race one wasn't the best drive for me. I was impatient in my decision making and did not have my head in the right spot. I started on pole, missed a shift off the start and ended up second to John Dean after the first lap. Heading up to Turn 6, John made a mistake with me close behind him and I had to check up to avoid a crash; that destroyed my momentum up the hill and I was passed. I worked my way back up to second, then made a mistake passing for the lead and went back up to fifth.
By the end of the race I salvaged a second-place finish but had the pace for the win, which was even more frustrating. After that race I took a hard look at what I did wrong and my mental state that caused me to be so impatient. I took some time before the second race to get my head in the game. It ended up working out for me and I was able to take the win, leading from the second lap on.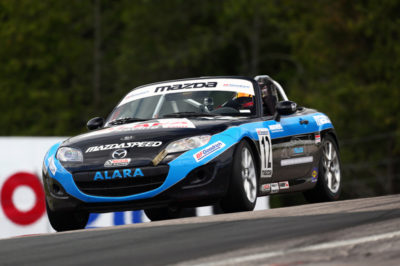 I had my head in place for Houston and apart from the heat, it was the perfect weekend, qualifying on pole for both races and leading flag to flag in both races with fastest lap in each and a 23-second gap back to second in the first race. Canadian Tire Motorsports Park was host to Rounds 7 and 8 and we were able to pull off the sweep there as well, setting a new track record in qualifying and winning both races with most laps led in each. If I just keep my head straight and make smart decisions, I think I have a good shot at the championship.
The second half of the championship is going to be a crazy one! The next tracks we are going to have been known for great battles. Road America and Road Atlanta are extremely fast and lend themselves to drivers who think and position themselves methodically to be in the right position on the last lap to take the win. If you're leading coming to the white flag, good luck on keeping that lead. These tracks are known for their long straights and drafting opportunities. You have to treat it like Talladega and find a partner to stay up front.
Thankfully, I have some awesome teammates! Ara Malkhassian has the track record at both of the tracks we are going to and Tim Paul has tons of experience on the upcoming tracks. He has been fast this season and is getting faster with every race! In Houston he finished fourth in race two and had the speed to be there in race one, but the wall caught him out as it did many others. We have a strong possibility of having an Alara Racing podium sweep in at least one of the upcoming races. I have to keep a level head, continue with the mindset I have had and keep getting those podiums and poles, and maybe, just maybe, I'll be on top at the end of the year.
This all wouldn't be possible without the help of Mazda, BFGoodrich, Hawk Pads, Skip Barber and, of course, my parents. Houston was a huge test for the durability of these products and all of them did an epic job in the hot and humid weather of Texas.