Eidson and Latorre Swap USF2000 Wins
Cape Motorsports with Wayne Taylor Racing enjoyed a banner day on the streets of Toronto as teenage teammates Jake Eidson and Florian Latorre each earned their first Cooper Tires USF2000 Championship Powered by Mazda victories during the Allied Building Products Grand Prix of Toronto. Both drivers also scooped a second-place finish that, combined with a cruel slice of misfortune for series leader RC Enerson, allowed them to take over at the top of the championship standings. Enerson suffered a drivetrain failure while leading on unlucky lap 13 in race two.
The green flag for race one, postponed from Saturday to Sunday morning due to inclement weather, took place on a track still wet from persistent overnight rain. Frenchman Latorre, 17, who had taken pole position for the fourth successive race weekend, took full advantage by taking the early lead, while teammate Eidson, 18, from Littleton, Colo., immediately passed front row starter Enerson to move into second place.
The yellow flags flew even before the end of the first lap due to an incident involving several cars on the exit of Turn 1. Latorre again took off at the restart but remained under intense pressure from Eidson as the pair quickly pulled away from the pursuing pack. Eidson made his decisive move for the lead under braking for Turn 1 on lap 14, after which Latorre locked up his brakes and slid into the escape road. He was fortunate not to lose more than one position.
Norwegian Henrik Furuseth passed Enerson for third, only to clip the wall on the exit of Turn 11. The impact was slight but it was enough to damage a rear upright and lead to his retirement. Enerson thereby regained third, which he held to the finish, well clear of Peter Portante, who moved up from seventh on the grid to take a season-high fourth. Fourteen-year-old Colton Herta slipped back to eighth by the halfway mark in the 15-lap race, but posted a charge in the closing stages to reclaim fifth ahead of Aaron Telitz.
The weather conditions improved dramatically in time for race two, with Latorre again leading away the 22-car field from the pole. Enerson wrested away the advantage midway around the first lap, which again saw the yellow flags waving following a multi-car incident in Turn 3 that took out several cars, including the unfortunate Furuseth. Enerson continued to lead at the restart, with Cape Motorsports teammates Latorre and Eidson snapping at his heels, and both Telitz and Herta also in close attendance.
The order remained unchanged until lap 13, when Enerson abruptly slowed on the exit of Turn 1. Officials had no option but to call for a full-course caution after his car ground to a halt on Lakeshore Boulevard. Another incident shortly after the restart saw Herta's fine weekend end against the tires in Turn 3 after Franzoni had made a bold move to the inside.
There was enough time left after cleanup for that incident for a two-lap dash to the finish, during which Latorre narrowly maintained his advantage over Eidson. Telitz nabbed third ahead of Franzoni and Clark Toppe.
With his pair of podiums, Latorre now leads the point standings with a 16-point advantage over Eidson (200-184). Enerson trails in third with 177 points.
Baron Claims First Indy Lights Win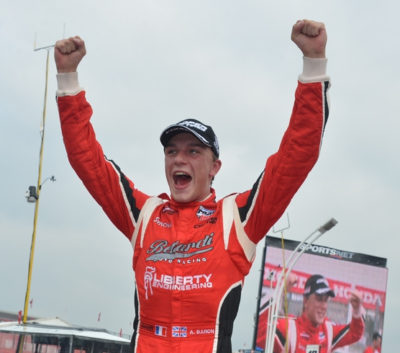 Alex Baron used his pole position advantage to help secure an exemplary victory in the Grand Prix of Toronto. Baron maintained his advantage over championship-leading Belardi Auto Racing teammate Gabby Chaves at the start, running slick Cooper tires on a damp but rapidly drying track, and quickly pulled out a margin of more than two seconds.
The two Belardi cars romped away in the early stages, with Jack Harvey more than five seconds in arrears after less than 10 laps around the challenging 1.755-mile, 11-turn street circuit. Harvey mounted a charge late in the race, but couldn't put forth a serious challenge to Chaves.
Chaves now leads Zach Veach by 21 points in the drivers' standings, 356-335.