Is it possible to start with a $5000, flood-damaged car and win a Pirelli World Challenge Touring Car Championship race? Adam Poland says yes, and backed it up by winning Round 8 at Road America in his Eastex Motorsports/Poland Construction Mazda MX-5.
"We stumbled across that car for a really good price," Poland said at Road America. "We bought a flood-titled car for $5000. It was a perfect donor car. By the time we built that car, it was only about $35,000, which is a little cheaper than an MX-5 Cup car. So it can be done and, as you're seeing this weekend, the car is competitive. We got the little gremlins worked out and the car is doing fantastic."
The flood damage got them a cheap donor, but it also meant more effort and expense to build it, Along with the usual performance upgrades, there were some other bits that had to be replaced.
"It was a ton of work. We had to go to coilovers, replace suspension components just in case there was water damage to anything. We put offset bushings in the rear, new axles and the RX-8 transmission," he said.
The donor car had one of the early MX-5 transmissions that, under the stresses of racing, sometimes gave difficulty with third gear, so he went with the RX-8 gearbox. The biggest change, though, was the use of the 2.5-liter MZR engine rather than the stock 2.0-liter engine.
"It's got cams from Comptech and CP pistons in it.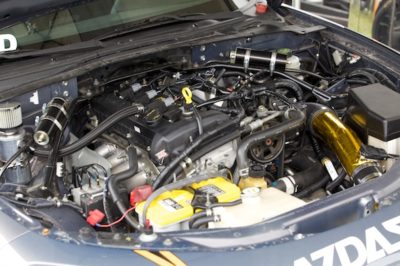 The most recent dyno we had before we came [to Road America] was 204, but that was in really bad conditions," adds Poland.
The suspension goodies include Penske 8300 triple-adjustable shocks, Hypercoil springs, Tri-Point Engineering front sway bar and Mazdaspeed sway bar in the rear. It rides on on 17×8 Enkei RPF-1s, the specified size for the MX-5 under the World Challenge rules.
Obviously Poland was happy with the car's setup at Road America. But he also realizes its going to take some effort to keep the car up front.
"It's going to be work, work, work," he says. "I've got a new job coming up and that's going to make working on the car a little bit difficult, but we're going to do the best we can."