Hello everyone, I'm Aaron Telitz, the MAZDASPEED driver in the Cooper Tires USF2000 Championship Powered by Mazda, driving for ArmsUp Motorsports. I'll be getting y'all up to speed on how my season has been going so far as we are halfway through. I try not to write lame and boring blogs so strap-in … this is going to be awesome!
The season kicked off the end of March at the Grand Prix of St. Petersburg. My weekend in St. Pete was a lot like a long weekend of partying. It started off really awesome and I was totally feeling it, and then by Sunday it seemed like someone had kicked me in my stomach and I didn't really want to talk about what happened.
I had never raced on a street course before, so I wasn't fully sure what I was in for. I ended up qualifying third which was great for my first try. The races didn't end up going so well for me however. In Race 1 it was pouring rain and I ended up making a mistake on some wet paint and had a small meeting with the wall (he wasn't very nice). Race 2 didn't go any better. We all made it through Turn 1 without incident, but then coming into Turn 4 one of my fellow competitors channeled his inner Pastor Maldonado and ran into the back of Henrik Furseth, who rolled back and collected me and then most of the rest of the field. You can view the shenanigans here. And once again my race was finished before the checkered flag.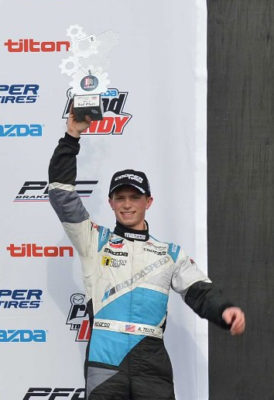 Well, the good news is I pretty much have gotten all the bad out of the way right up front. I promise things get much better from here on out. Our next event was the Grand Prix of Alabama at Barber Motorsports Park.
I had a great car all weekend again at Barber and managed to round up a fifth-place finish in Race 1. In Race 2 I started from fourth and made it up to second by the finish. Also, on my way to second I made a super-rad pass for third that earned me the "Re-Play XD Move of the Race" You can view the awesomeness here. I was super stoked about my first podium finish of the season. I truly enjoyed the opportunity to stand on the podium with the always lovely Cooper Tire Girls! I was ready to carry the newfound momentum on to the IMS Road Course.
The weather on race day made me feel like I was in Seattle, or a Twilight movie. I started sixth on wet tires and battled forward to second before I was overtaken by a driver who came in to get slicks because the track was drying out. I ended up in third by the finish, so I had a little podium streak going! Race 2 was a little shaky. I started 12th and had an atrocious first lap falling back to near last. But I battled my way back up to 11th.
Up next was the "Night Before the 500". I had never driven on an oval until the series ran a test day at Lucas Oil Raceway a couple weeks before the event. I'm not lying when I say I wasn't very good at first. But I kept working at it and the ArmsUp guys kept working with me to make the car better. By race night I had a perfect car. I started sixth but I had excellent race pace and went straight to the front when the green flag fell. I led 51 laps and grabbed my first USF2000 win!
A huge thank you to Mazda for their support of my 2014 season!