In-car video can be a great thing. It can be something fun to show friends and relatives. It can be used to show someone around the track. It can be evidence for the race stewards. Perhaps most importantly, it can be an evaluation tool for both the driver's and the car's performance.
With today's electronics, you can take video with you anywhere, right on your phone or tablet. And the same electronic advances that make that sort of thing possible have made devices like the GoPro HERO3+ camera a reality. Small and easily positioned almost anywhere, it captures HD video with ease.
Both the Silver and Black Editions can capture video at 1080p at 60 frames per second, or 720p at 120fps – with the right software, you can view your video in slow motion – in three different view angles. The Black Edition can go even higher definition as well, all the way up to 4k. With built-in WiFi – both the Silver and Black editions include WiFi, and the Black includes the remote – you can control the video from the remote or your smartphone. The app and WiFi remote can also be used to start several cameras simultaneously. Using the GoPro App on your smartphone will even allow you to see what the camera is seeing so you can position it properly.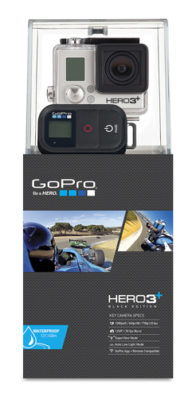 Where do people position them? The most obvious is facing out the front, recording the race much as the driver sees it. Go with a wider angle to include the driver in the action. Other options include rear, pointed at the pedals to check the driver's footwork, viewing the action of the suspension, and more. Autocrossers, with fewer restrictions per the rules and a suction-cup mount, can get really creative and see just how close they are getting to the cones.
GoPro HERO3+ cameras are used by professional production crews in a variety of action sports because they produce broadcast-quality video and come with the legendary, very tough, water- and weather-proof housing. The company produces a huge range of mounts for almost any surface, including rollbar mounts.
The best part about the GoPro HERO3+ Black and Silver Editions is they're now available through Mazda Motorsports at special racer pricing.
"Mazda Motorsports is stocking the GoPro Hero3+ Camera (Black and Silver Edition) at competitive prices," says David Cook, Mazda Motorsports Business Development Manager. "If you're just starting out in racing or a seasoned weekend racer, a GoPro Camera can help you analyze your driving sessions or just give you something to share with friends."
Mazda Motorsports is carrying both GoPro HERO3+ Silver Edition and the Black Edition Adventure. Both include a couple of adhesive mounts, a three-way arm, waterproof housing, quick-release buckle, higher capacity Li-Ion battery and USB cable. The Black Edition includes the WiFi remote, also available separately. See below for the part numbers for GoPro HERE3+ cameras and accessories.
Category / Product Description
Mazda Part Number
Go Pro Part Number
Retail Price
Racer Price
HERO3 Cameras
HERO3+ Silver Edition
0000-10-9110
CHDHN-302
299.99
279.00
HERO3+ Black Edition – Adventure
0000-10-9111
CHDHX-302
399.99
374.99
Premium Accessories
Battery BacPac Limited Edition (includes free Dive Housing for HERO3+ compatibility)
0000-10-9150
ABPAK-304
49.99
44.99
LCD Touch BacPac Limited Edition (includes free Dive Housing for HERO3+ compatibility)
0000-10-9151
ALCDB-304
79.99
63.50
Mounting Accessories
Flat + Curved Adhesive Mounts
0000-10-9160
AACFT-001
19.99
11.50
Front Mount
0000-10-9161
AHFMT-001
12.99
11.69
Side Mount
0000-10-9162
AHEDM-001
12.99
7.50
Roll Bar Mount
0000-10-9163
GRBM30
29.99
17.50
Suction Cup Mount
0000-10-9164
AUCMT-302
39.99
23.00
Jaws Flex Clamp Mount
0000-10-9165
ACMPM-001
49.99
29.00
Camera Tethers
0000-10-9166
ATBKT-005
19.99
11.50
Other Accessories
Standard Housing (HERO3/HERO3+ only)
0000-10-9170
AHSRH-301
49.99
29.00
Standard Housing Lens Replacement Kit (HERO3/HERO3+ only)
0000-10-9171
ASLRK-301
19.99
11.50
Protective Lens + Covers  (HERO3/HERO3+ only)
0000-10-9172
ALCAK-302
19.99
11.50
Auto Charger
0000-10-9180
ACARC-001
29.99
26.99
Rechargeable Battery (HERO3/HERO3+ only)
0000-10-9181
AHDBT-302
19.99
17.99
Lexar SD Card 32GB – Class 10  (HERO3/HERO3+ only)
0000-10-9185
AMSDC-332
49.99
42.50
Lexar SD Card 64GB – Class 10  (HERO3/HERO3+ only)
0000-10-9186
AMSDC-364
79.99
67.00
Log into your account or call 800.435.2508 for more information.