For SpeedSource Race Engineering principal Sylvain Tremblay, the racing bug bit, appropriately enough, with a Mazda. That Mazda was far from any racetrack, however.
"If you rewind the clock, I was 13-years old riding my bicycle in my little town of Lighthouse Point, Florida," Tremblay explains. "I came across a Champion Spark Plug RX-3 on a boat trailer and my curiosity got the best of me and I went to go ask what it was for and what they were doing. I started helping out earlier on. My first taste of racecars was with an RX-3. That started my association with Mazda."
From that first sampling, Tremblay found autocross and won several championships throughout the Southeast. He started road racing and won a Jim Russell scholarship at Mt. Tremblant. But it was in entry level SCCA Improved Touring racing that he really found his niche.
"As I had the opportunity to go road racing, I kind of made a name for myself in an ITS Mazda RX-7," he says. "At the time, the Datsun 240Z was the dominant car in ITS. Nobody had taken a Mazda, especially a second-generation Mazda, and done anything with it on a Regional or a National level. We were the fist ones to take a second-gen RX-7 and make it a competitive ITS car.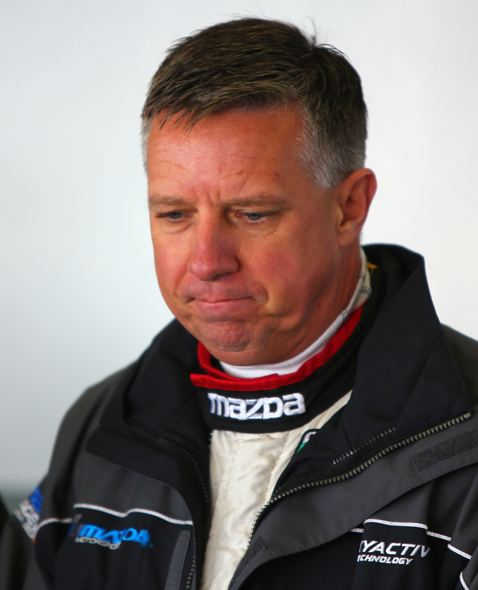 "In '93 I went to the national championship in Topeka, Kansas. If it wasn't for a broken swaybar, I most likely would have won the race. It really got people thinking about this particular car. As my car was running well, people said, 'Hey, can you build me one? Can you sell me some pieces?' Really, that was the beginning, the infancy of what SpeedSource was going to be when we formed in '95. The adage, and it is still the same adage, is I build cars for myself. I just let people give me money for my cars. I still have an emotional attachment to all the cars we've built – since 1995, more than 150 racecars."
Tremblay is still fielding cars for himself, but also for Tom Long, Joel Miller and Tristan Nunez – the Mazda SKYACTIV-D Prototypes in the TUDOR United Sports Car Championship. That follows the Mazda6 SKYACTIV-D GX-class car that won Mazda the class's manufacturers championship in last year's Rolex Sports Car Series, and the GT-class RX-8s with which the team took two Rolex 24 at Daytona victories in 2008 and 2010.
Given SpeedSource Race Engineering's winning history with Mazda, can it be any doubt that more victories are not too far behind?
Coming in Part 2: Club racing success lays the groundwork for what SpeedSource would become.