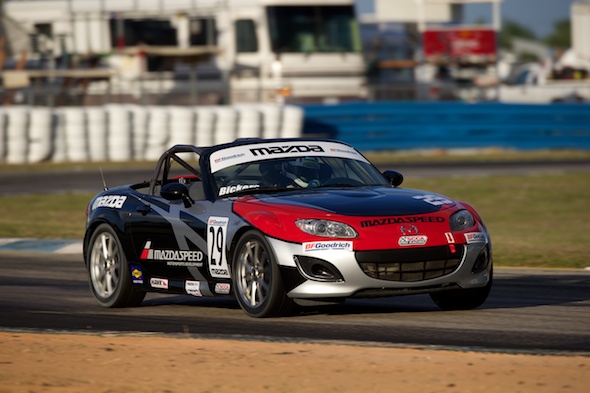 Yes, if you're fan of stick-and-ball sports, CJ Wilson needs no introduction. The Los Angeles Angels of Anaheim's star lefty on the mound is well known in baseball circles. Now in his 10th year as a major leaguer, he has a little over a 50 percent win record as a starting pitcher and 3.61 career ERA.
He'd like to have a record like that in racing. The team owner for a fleet of Mazda MX-5 Cup Presented by BFGoodrich® Tires cars and a two-car team in IMSA Continental Tire SportsCar Challenge has some high goals in motorsports, but like many his passion for racing started in childhood.
"My draw to racing is similar to what draws anybody else to racing…familiarity," Wilson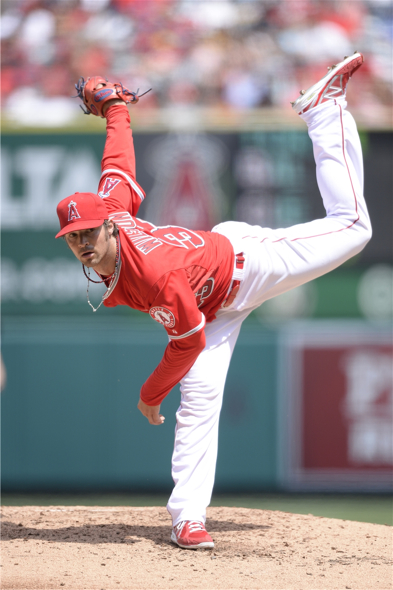 says. "When I was a kid, I used to go to races and stuff because my dad was on a pit crew for a dirt track team. My idea of fun, instead of going to the beach or something like that, I'd beg my dad to take me to the exotic car dealership to go look at stuff. I remember seeing a [Lamborghini] Countach as a 7-year old and thinking it was the best thing ever. I thought Don Johnson's Testarossa on Miami Vice was awesome. I used to watch Formula 1 and Indy cars and all that stuff. When I was a little kid, my dad and I would watch it together. It's just something that I've been brought up with."
Wilson can go to the exotic car dealership and buy whatever he wants now, instead of just looking. But he's invested in a fleet of Mazda MX-5s – perhaps from his own Mazda dealership in Illinois. In the Continental Tire series, its two cars, the No. 3 CJ Wilson Mazda/Head & Shoulders car for Tyler McQuarrie and Marc Miller (Elliot Skeer filled in for Miller, injured in a crash at Sebring, at Mazda Raceway Laguna Seca) and the No. 5 ModSpace MX-5 for Stevan McAleer – the 2013 Continental series Rookie of the Year and 2012 MX-5 Cup champ – and Chad McCumbee.
In MX-5 Cup, he runs cars for 2013 Mazda Club Racer Shootout winner Joey Bickers, 2012 Shootout winner Patrick Gallagher, Charles Paquin and Devin Jones. It's only natural that he fields a team in MX-5 Cup, because he started racing with an MX-5 Cup car.
"My first track car was actually a Porsche. I was doing the schools and stuff like that. I wanted to do some SCCA Club Racing. One of my friends who had done some Grand-Am stuff said. 'The car you should get is an MX-5 Cup car, because you can drive the hell out of them and drive them at the limit, but the speed won't be so great that you won't be able to correct it. You'll be able to completely remove the fear factor from the situation and just go,'" he says.
"I was driving a 4-500hp car at the time," he continues. "Taking it down to a 175hp car that was really about light weight, momentum, technique, proper setup and learning how to work with the suspension was fantastic for me. I started racing officially in 2008. My first two races I had blowouts from debris on the track. Then the next two races I won. I felt like it was a good transition. I stuck with Mazda because it was such a good platform, especially for the endurance racing. I was trying to get the most bang for the buck that I could. It's much more economical to race an MX-5 Cup car than it is to race a lot of other stuff."
Wilson loves racing, and he loves baseball. On the surface, they seem like very different endeavors. Asked to draw parallels between the two, Wilson doesn't mention anything about the period of time between the first pitch and final out or between the green and checkered flags. Instead, the similarities are about the time in between games and between races.
"As a baseball player, the preparation you do between starts, especially as a pitcher, is critical," he explains. "It's how you keep your arm healthy, your body healthy. It's how you prepare your muscles so they can withstand the torture of throwing 125 pitches in a game. You need to have preparation for your opponents; you need to understand what they're good at. You need to understand your weaknesses too, and how to alter those and make them strengths.
"It's the same way you'd look at the car and say, 'We're losing a little bit of horsepower here so we've got to figure out a way to mess with the exhaust. Or figure out a way to get the car to stop oversteering so much.' Then we consider the track we're racing…we need to watch some video, do the simulator, get on iRacing – get on something so we can get familiar with it and get up to speed faster. It's a constant development process – where I'm learning new pitches, it's a constant development process for the team as well."
In summary, Wilson notes: "Anything that racing teaches you about baseball … people say baseball is a game of inches; racing is tenths of a second, hundredths of a second. Those minute changes can really add up to big results."
The CJ Wilson Racing teams return to action at Watkins Glen International on June 26-28 (Continental Tire series) and the Houston Grand Prix on June 27-29 (MX-5 Cup). For more information about the team, see CJ Wilson Racing; to learn more about CJ and the CJ Wilson Children's Charities, see www.leftylefty.com.