Gumby didn't drive a racecar. So seeing the lovable claymation character at a racetrack is a bit unusual. But when Kenton Koch won the second of two SCCA Pro Racing Mazda MX-5 Cup Presented by BFGoodrich® Tires races at Mazda Raceway Laguna Seca in May, Gumby was right there on the podium with him.
As it turns out, Gumby and Koch have the same hometown – Glendora, Calif.
"Glendora is the home of Gumby," explained Koch of the special paint job on his Alara Racing MX-5. "That's where it originated. [Gumby creator] Art Clokey lived in Glendora, Covina, right in that area. I worked together with the city to see if I could help them out a little bit. They said they were having something called Gumby Fest. They're trying to bring back Gumby and having a fundraiser to help out the library."
So Koch decided to help his hometown by promoting Gumby Fest at the series' closest race to his Southern California home, at Mazda Raceway in Monterey.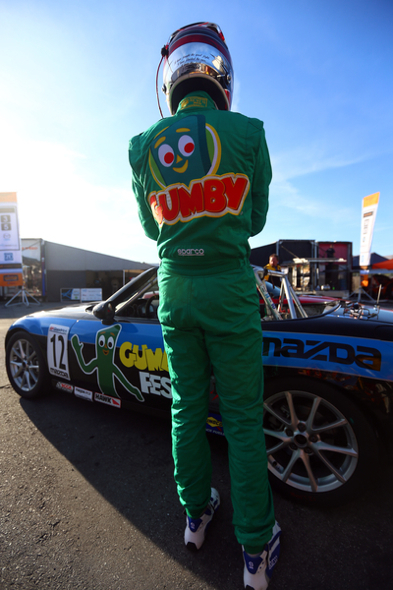 "We got the green suit that says Gumby Fest on it, with Gumby on the back, donated by Sparco, as well as a helmet from Sparco – L & G Enterprises painted the helmet. That's going to be auctioned off at Gumby Fest, which is going to be June 14 on Glendora Ave."
Gumby could have scarcely gone on a ride with a better driver, as Koch won his second race of the season and, for the second time in two race weekends, traded wins and runner-ups with John Dean II.
"The first race we got P2. I wasn't quite happy with how I drove in that race, made mistakes all over the place. I went from second to fifth twice and back to second again. I was overdriving, not doing what I should have been doing. I took a hard look at what I needed to do to win the second race, which was basically calm down. In the second race we were able to put together what we really needed to do. I was able to get around John, and once we got around John, I was able to pull a little bit of a gap," Koch says.
With the pair trading firsts and seconds in the first four races, the championship fight remains very tight, with Dean holding a small advantage thanks to points for poles and laps led. Koch thinks he will have something for Dean at the series' next stop in Houston on June 27-29.
"On some of the more technical tracks, we might have a tidbit of an advantage. We'll see how it goes, but I think we're going to be fast in Houston for sure," he says. "Christian [Szymczak] did some testing last year, and the cars are going to come out of the box pretty quick there."