For Mazda fans, watching the Mazda SKYACTIV-D Prototypes in the TUDOR United Sports Car Championship has been a bit painful. While the cars are beautiful and everyone knew that 2014 was a development year for the program, watching the cars qualify behind even the GT cars was difficult. But, then, at Mazda Raceway Laguna Seca, it was like a light switch went on and all of a sudden the SpeedSource Race Engineering-run Mazda Prototypes were running much more competitive times and qualifying with the other prototypes. It wasn't so much one big switch, but rather a whole bunch of little switches.
"On the calendar, even before the Rolex [24 at Daytona] we had Mazda Raceway circled," says Sylvain Tremblay, SpeedSource's principal and driver of the No. 70 Mazda Prototype with Tom Long. "It's an early May event, it's the home track … so if you're going to perform, you want to perform at that particular race. So we put a lot of emphasis on the setup, on the engine, on everything for that particular event. For us to be able to have two good cars was huge. We were disappointed we had a cracked intercooler – it wasn't plumbing related, the core was cracked – on the 70 car. So we couldn't really qualify with that particular car. But we had a convergence of all the testing, some new pieces, great setup and a well-driven event."
The No. 07 of Joel Miller and Tristan Nunez qualified 11th and ran well until a Daytona Prototype in the middle of a three-car sandwich punched the Mazda's left-side radiator at the top of the Corkscrew. That left the No. 70 to carry on to a seventh-place finish, a huge improvement over previous efforts.
"We had to be ultra-conservative," says Tremblay of the early races of 2014. "So the cars did not perform near the level that they could. We had to make some choices as to what we could and couldn't do because of the driveline issues. As we battled those with our vendors and had some new pieces on the car, we were really optimistic about what we could do at Long Beach. We had some new pieces on one car, then we had an unfortunate problem with that one car and couldn't race and we couldn't really show what we needed to do."
The problem with the program has always been getting the prodigious amounts of torque generated by the SKYACTIV-D engine to the ground. SpeedSource has never been able to use it all because the rest of the driveline couldn't handle it.
"On the driveline, the interesting thing is there are two schools of thought, especially with this particular engine. You have to keep in mind that a direct-injected diesel engine like ours makes extremely strong power pulses. And being a four cylinder, you get two hits – two up and two down – every single revolution. So our power spikes are very high. We spent a lot of time instrumenting what it is. We have a 10 millisecond event, a very, very broad, very high spike," Tremblay explains.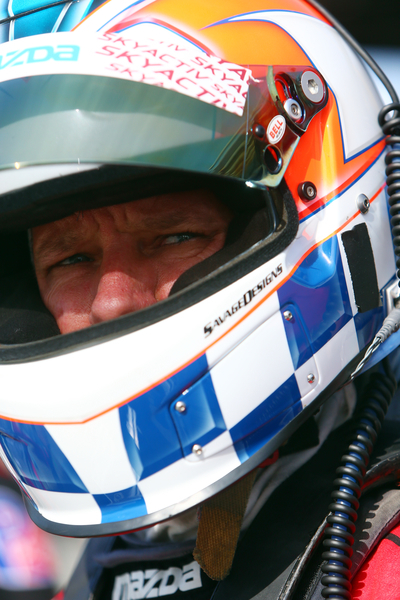 "So how do you manage that?" he continues. "One school of thought was to make everything stronger to kind of overwhelm that particular aspect of that, and that didn't work out so well for us. We broke components almost instantly. The other school of thought was to really soften and be able to absorb that event. We changed the tune of the engine so the power pulses aren't so high, so we control cylinder pressures. Really, a combination of those two things and softening the input shaft and the axles is what allowed us to have decent reliability. As we increase the power output, there will be new challenges. But we understand the issue a lot more now than we did prior to Daytona."
While the SpeedSource engineers know what needs to be done, getting it done is not always immediately possible. While the team can machine many parts in-house, parts like pistons, connecting rods and other driveline pieces come from partner suppliers and take some time to engineer and manufacture.
So, for the TUDOR Championship race at Detroit this weekend, the team isn't expecting big gains. The next big update will likely come for Canadian Tire Motorsport Park or Indianapolis Motor Speedway in July. But the form the team had at Mazda Raceway should remain for Detroit. As usual, Mazda will stream video live during the Detroit race, which begins at 12:10 p.m. Eastern on Saturday, from one of the Prototypes. The streaming video can be found on Mazda USA's YouTube Channel.