For the second time in two weeks in the Indianapolis area, a young Canadian scored his first victory in the Pro Mazda Championship Presented by Cooper Tires. This time it was Garett Grist, driving for Andretti Autosport, who led from flag to flag in Saturday evening's Allied Building Products Oval Challenge at the 0.686-mile Lucas Oil Raceway oval as part of the 69th Annual Visit Hendricks County Night Before the 500.
Fellow countryman Scott Hargrove, who turned the trick for Cape Motorsports with Wayne Taylor Racing two weeks ago on the Indianapolis Motor Speedway road course, finished second, ousting front row starter and championship leader Spencer Pigot (Juncos Racing) with six laps remaining in the fast-paced 90-lap race.
Both Grist, 19, from Grimsby, Ont., and Andretti Autosport teammate Shelby Blackstock had struggled during testing and official practice, but suddenly found the required turn of speed in qualifying as Grist took the pole with a two-lap average of 110.615 mph. Blackstock wasn't too far behind in third, sandwiching practice pace-setter Pigot.
Grist took full advantage of his hard-won pole position by holding off Pigot and Blackstock at the start, with Nicolas Costa, making his first start for Pelfrey Racing, jumping into fourth ahead of Hargrove and Cape Motorsports with Wayne Taylor Racing teammate Neil Alberico.
The race quickly settled into a pattern, with Grist and Pigot setting a torrid pace at the head of the pack and Blackstock gradually slipping behind in third place.
Hargrove, who said his car mysteriously found some extra speed in the closing stages, swept past both Costa and Pigot – who had passed the struggling Blackstock – on Laps 83 and 84 to take over second place and earn himself the RePlay XD Move of the Race Award. Hargrove also took home the Quarter Master Hard Charger Award after rising from sixth on the grid to second.
Pigot was virtually exhausted at the finish line after narrowly holding off the attentions of Costa. Afterward it was discovered that the right-front tire on Pigot's car was almost completely flat after having picked up a piece of debris.
Pigot and Hargrove are now separated by only three points, 180-177, as the Pro Mazda Championship moves on to the streets of Houston, Texas, for Rounds 8 and 9 in conjunction with the Verizon IndyCar Series on June 28-29.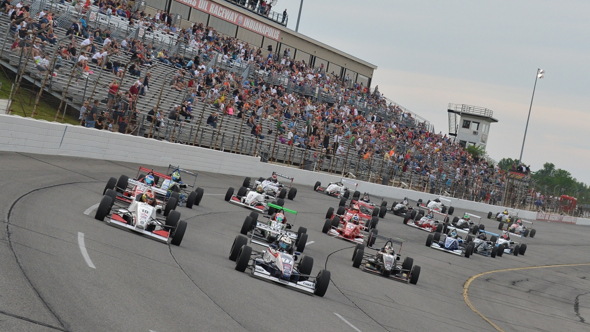 In the Cooper Tires USF2000 Championship Powered by Mazda race, Rookie Aaron Telitz scored an impressive first career victory. It was also the first win for Wisconsin-based ArmsUp Motorsports.
Austin Cindric, son of Penske Racing President Tim Cindric, finished second for Pabst Racing, while Brazilian Victor Franzoni took third for Afterburner Autosport.
Telitz, from Birchwood, Wis., winner of last year's Skip Barber Championship Shootout, was the man to beat, posting fastest times in practice with the No. 5 MAZDASPEED/Rice Lake Special Van Diemen-Mazda, but he struggled a little in qualifying and could manage only sixth in the closely matched field.
Polesitter Florian Latorre took off into the lead at the start for Cape Motorsports with Wayne Taylor Racing, chased by Cindric, Jeroen Slaghekke (Belardi Auto Racing), Franzoni and Clark Toppe (JDC MotorSports), who put up quite a fight in the early stages before finally ceding fifth place to Telitz on Lap 11.
Telitz then quickly tracked down Franzoni, whom he passed for fourth on Lap 19. Clearly the fastest man on track at this stage, Telitz made short work of Dutchman Slaghekke, then within the space of a little more than a lap swept past both Cindric and then Latorre to take over the lead in tremendous style on the inside line going into Turn 1. He never looked back, inched clear of the field and finally took the checkered flag 1.3237 seconds to the good after a hectic, all-green, 75-lap race.
On Lap 36, Cindric also found a way past Latorre in Turns 1 and 2 to take over second place, followed almost immediately by Franzoni.
The next two rounds of the Cooper Tires USF2000 Championship Powered by Mazda will take place in support of the Verizon IndyCar Series on the streets of Toronto, Canada, on July 19-20.