Freedom Autosport won its fourth consecutive Continental Tires Sports Car Challenge Street Tuner victory at Mazda Raceway Laguna Seca, with Randy Pobst and Andrew Carbonell taking their second consecutive win in 2014.
It came down to a three-way battle between the Freedom Autosport No. 26 Mazda MX-5 driven by Pobst and Carbonell and the two CJ Wilson Racing MX-5s.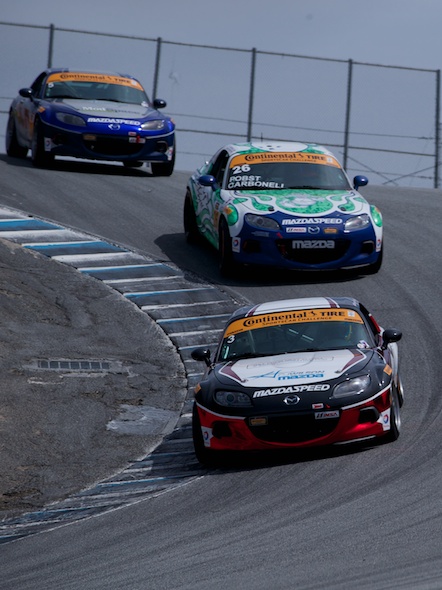 The CJ Wilson team swept the Street Tuner class front row, with Elliot Skeer setting fast time for he and Tyler McQuarrie in the No. 3 MX-5 ahead of Stevan McAleer and Chad McCumbee in the No. 5 and two of the three Freedom Autosport cars entered at Mazda Raceway. Carbonell qualified the No. 26 in third, while Matt and Mark Pombo started fourth in the No. 25 MX-5.
The lead changed hands several times, but it was always a Mazda up front. Carbonell eventually brought the No. 26 home with 1.253 seconds in hand over McQuarrie – who passed the other CJ Wilson car for second on the final lap.
The victory was Carbonell's third at Mazda Raceway, and Pobst's first in Continental Tire Sports Car Challenge competition at the track.