U.S. Marine Staff Sgt. Liam Dwyer Prepares for Team Debut
SALINAS, Calif. In four visits to Mazda Raceway Laguna Seca, Freedom Autosport has earned four double-podium finishes. And for the past three years, the team has finished 1-2 with their Mazda MX-5s. When Freedom Autosport returns to the track next weekend, they hope that history will repeat itself once again.
After finishing second and third in 2009, when the IMSA Continental Tire SportsCar Challenge Series first visited Mazda Raceway Laguna Seca, Freedom Autosport returned in 2011 to finish first and second. Now, three years later, they are the undisputed kings of the ST class at the 2.238-mile track.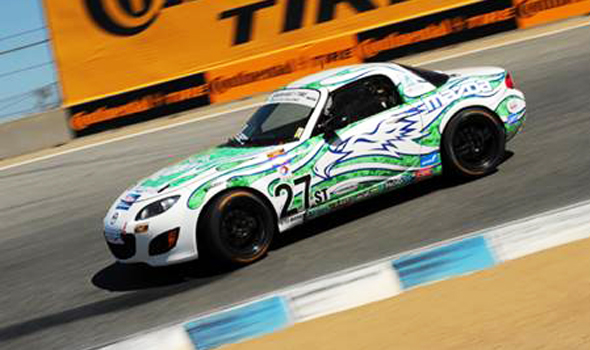 For 2014, Freedom Autosport wants to add one more detail: putting a military veteran on the podium. The race marks the team and series debut for U.S. Marine Staff Sergeant Liam Dwyer, who will be driving the No. 27 Mazda MX-5 with Tom Long.
Dwyer races with a prosthetic left leg, the result of an IED explosion during his deployment to Afghanistan. Freedom Autosport has modified the clutch pedal of the No. 27 Mazda with a quick-release pin. Dwyers prosthesis is pinned in place for racing, then quickly released for his pit stop and driver change.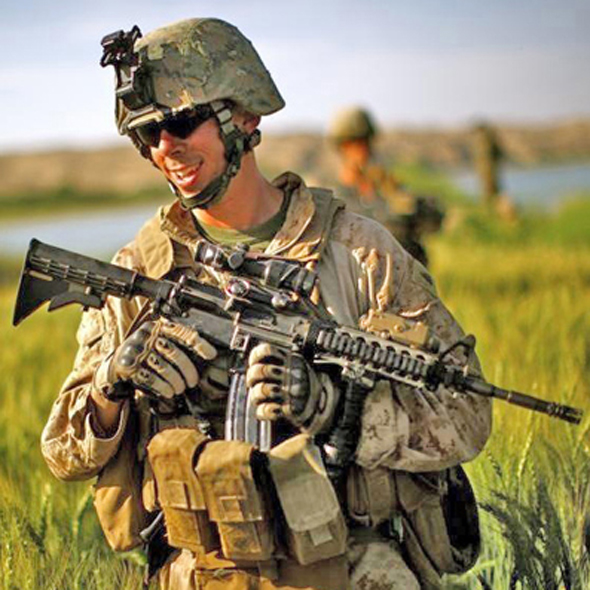 Dwyer recently turned his first laps at Mazda Raceway Laguna Seca during a test. Until then, he had only driven the track on a racing simulator. Simulators cannot do that track justice! The elevation changes in the track are something you truly have to experience firsthand to understand, Dwyer said. Mazda Raceway is a Mazda MX-5 track.
John Doonan, Motorsports Director for Mazda North American Operations, noted, I cant imagine a racer who better exemplifies the Mazda spirit of Never Stop Challenging than Liam Dwyer. Mazda is thrilled to have Liam make his professional racing debut with Mazda, at our home t rack, on a day that is honoring the men and women of the U.S. military, with a Mazda team that has a long history of supporting U.S. Marine Corps families its a perfect match. This will be a great day for everyone involved.
Mark Pombo, who drives the No. 25 Freedom Autosport MX-5 with his brother Mat Pombo, is also a military veteran. Pombo was in the Army Reserve and served in Iraq as one of the first waves of troops deployed there.
Randy Pobst and Andrew Carbonell complete the Freedom Autosport lineup in the No. 26 Mazda MX-5. Carbonell won at Mazda Raceway Laguna Seca in 2013 and 2011 with co-driver Rhett ODoski.
In honor of National Military Appreciation Month (May), Freedom Autosport has teamed up with Mazda Raceway Laguna Seca to offer
free general admission to all active military in uniform and veterans with military ID. As a longtime supporter of the military and the Injured Marine Semper Fi Fund, Freedom Autosport is proud to help say thank you to those who serve. Freedom Autosport and Mazda Motorsports will also host military at the Military Hospitality Area, and Freedom will be giving away commemorative tee shirts.
Dwyer, Pombo and the rest of the Freedom Autosport drivers will be in action on Saturday, May 3. The 2.5-hour race begins at 12:45 PT. It will be broadcast live at
IMSA.com, and shown on Fox Sports 1 at 10:00a.m. ET on May 11.
ABOUT THE INJURED MARINE SEMPER FI FUND
The Injured Marine Semper Fi Fund is a nonprofit organization that provides immediate financial support for injured and critically ill members of the U.S. Armed Forces and their families. Urgently needed resources are distributed to post 9-11 Marines and Sailors, as well as members of the Army, Air Force or Coast Guard who serve in support of Marine forces. Freedom Autosport is a longtime supporter of the Semper Fi Fund. For more information please visit:
ABOUT MAZDA
On any given weekend, there are more Mazdas on the road-race tracks of America than any other brand of vehicle. At the track, youll see MX-5 Miata, RX-8, MAZDA3, MAZDA6, RX-7 and other vintage Mazda models competing, because every Mazda has the Soul of a Sports Car. In fact, the largest road-racing class in the world is Spec Miata, with more than 2,500 first- and second-generation Miatas tearing up Americas racetracks, making it the most-raced production car in the world. Mazdas involvement in motorsports extends to its relationship with Mazda Raceway Laguna Seca, one of the worlds premier road-racing circuits, and the Skip Barber Schools for driving and racing.