Winning a National Championship is one thing. It may be even better when it's a complete surprise when you get into impound.
Jason Kohler had just that experience at the NASA National Championship at Miller Motorsports Park last September. Competing in a Miata in the Performance Touring E class, he thought he was chasing the first-place car in the closing stages of the race; in reality, the car he was following was in a different class. Only when he noticed in impound that the other Miata was a PTD car did he realize he was the champ.
Kohler's National Championship story begins with qualifying. In the first of two qualifying races, he finished third on the track then moved to second when one of the cars ahead of him was found to be over on the maximum power allowed. The second qualifying didn't go so well, however.
"In the qualifying session before the qualifying race, my battery slid under its bracket and shorted out, so my car stalled and I didn't get a single qualifying time," Kohler explains. "I started at the back of the pack for the qualifying race and unfortunately wasn't able to make it up too far. I had a great race with Brett Westcott – we battled it out toward the back of the pack, which was awesome. Brett and I were back and forth for most of that race and I ended up finishing sixth, I think. That put me third or fourth for the actual race on Sunday."
William Chen scored the pole, but had trouble and wasn't able to compete, helping Kohler's cause. Although Kohler slid back a position at the start, two cars in front of him sliding off after contact helped him further.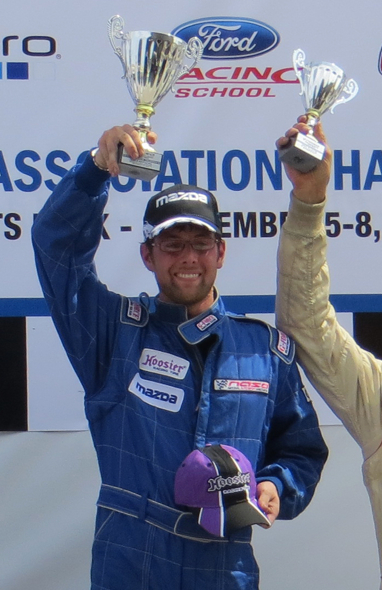 "I caught up to the pack and it was me and Bruce [Pendleton] and Andrew [Kidd] and Timothy Reger. Andrew and I pulled ahead and we switched places…must have been three times. Andrew's motor was smoking a bit at that point, but he didn't seem affected. I was able to get by him at the end of the straight, but then he pulled off," says the mechanical engineer from Michigan.
"From there on, for whatever reason, I thought I was in second place still. There was another red Miata, just far enough ahead that I couldn't read the class he was in. I spent the rest of the race chasing the guy that I though was in first place, not realizing that I was actually in first place! In impound, I noticed it was a PTD car, which meant I had been in first the last several laps."
It was Kohler's third championship, having won TTB and Honda Challenge last year. He says he switched to the Miata and PTE for 2013 because there were more competitors in the class, and the Miata is a lot cheaper to operate than his previous racecar.
The Performance Touring category in the National Auto Sport Association is a points-based category. Each car is assigned a base class, and each modification is given a certain number of points. Exceed a given point total, and your car moves up a class.
"You pick your points in the wisest way you can to make your car as fast as possible," Kohler says. "It's a strategy game to pick the parts you think, or you've tested and proven, will make you fastest."
Kohler, in using his points for suspension and a limited slip differential, seems to have chosen wisely. Coupled with skilled driving and staying out of others' troubles, it made him a National Champ – whether he knew it at the time or not.