It was billed as the ultimate grudge match – dealers vs. factory guys in identically prepared Mazda6 SKYACTIV-D Diesels over 25 hours.
"I don't think any factory is crazy enough to come up with a challenge like this, other than Mazda," says Taz Harvey, driver of the No. 55 Mazda6 for the dealers and one of three drivers, including Richard Fisher and Joel Weinberger, on the highest-placed Mazda6 team. "A big thanks to all the crew at Mazda R&D for putting together a phenomenal car, and Robert Davis, who did such a great job organizing this event and showing that Mazda really does care about its dealers, enough so that they pay attention to what their dealers do."
Harvey represented the Tracy and Dublin (Calif.) Mazda dealerships (Fisher represented The Autobarn Mazda in Evanston, Ill., and Weinberger was from Continental Motors in Naperille, Ill.). Harvey not only has a boatload of professional racing experience, mostly in SCCA Pro Racing's World Challenge Championships, but has competed in the NASA 25 Hours of Thunderhill seven times now. So he knows how to get the job done.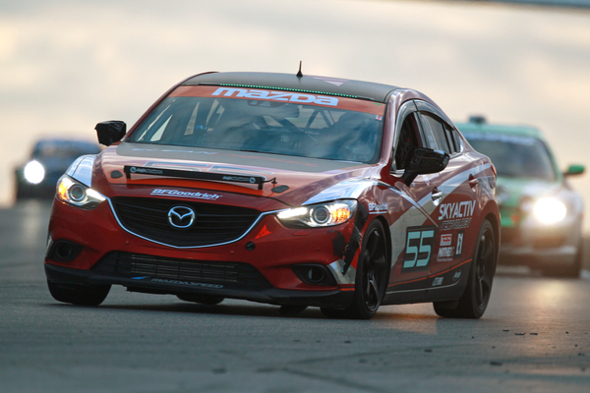 "We had a strategy," Harvey explains. "There were three different teams running the diesel 6s, and our strategy was to try to beat the 70 car [The Factory Guys – Randy Miller, Ken Saward, Dave Coleman, Nathan Edmonds, Mike Allen and Jason Meise]. The only way we could do that, we felt, was stay out of the pits and stay out as long as possible and not have anything happen to us. The car got such great fuel economy that we were double stinting and triple stinting drivers so that we stayed out on the track for longer periods of time. The only time we changed drivers was when we had a tire about to go out because of wear, and the tires were lasting five or six hours. We were really, really happy with the tire wear."
As a result, one of Harvey's stints lasted from 6:30 p.m. to midnight on Saturday, and the second was from 6 a.m. until the finish at noon on Sunday. The downside of spending that long in the car? Hunger. "I was so hungry at about 11 o'clock in the morning I started hallucinating about bacon and eggs," he says.
In order to get the mileage, tire and brake wear – the car used one set of pads for the entire race and the pads had about another three hours left in them at the finish – Harvey says he, Fisher and Weinberger agreed to run a percentage pace.
"If you try to run 100 percent for 25 hours, you're either going to make a mistake and crash or do something stupid and hurt the car. Other people, for sure, are going to do stupid things around you, and when you're running at 95 percent pace or 100 percent, your margin of error for when somebody does something stupid in front of you goes down to almost nothing and then you have problems," he says.
Another trick to get good fuel economy was shifting early – 4200RPM – and only using fourth and fifth gears. Harvey says they only gave up about a second per lap by not using third. Although they didn't come home with the class victory – The No. 55 was third in E1 – Harvey says the Mazda6 SKYACTIV-D was a good racecar and looks forward to next year.
"The Mazda6 Diesel was extremely easy to drive," he says. "It was very quiet. The handling was spot on; apparently they used some R&D that they'd used in the past on some pace cars. The suspension settings were pretty good for a long distance event. These cars are diesel-powered, bone stock engines; they're going to run and run and run. There's really no maintenance on the cars once you put them together.
"We're hoping to come back next year to defend our title. The factory guys were pouting. But it's on for next year!"