As if earning an opportunity to present his business case for a shot at the Mazda Club Racer Shootout wasn't enough, Joey Bickers was also selected to try out for the chance to represent the U.S. in a pair of prestigious races in the United Kingdom as part of the Team USA Scholarship.
To get there, though, he'd first have to endure an interview session in front of a group of industry professionals during the IndyCar Series weekend at Mid-Ohio then, if he cleared that test, the next step was a shootout at Andersen RacePark in Florida, with all the candidates driving USF2000-spec Van Diemen-Mazdas. Along with Jake Eidson of Littleton, Colo., Bickers cleared those hurdles to compete in the Walter Hayes Trophy and Formula Ford Festival races in England.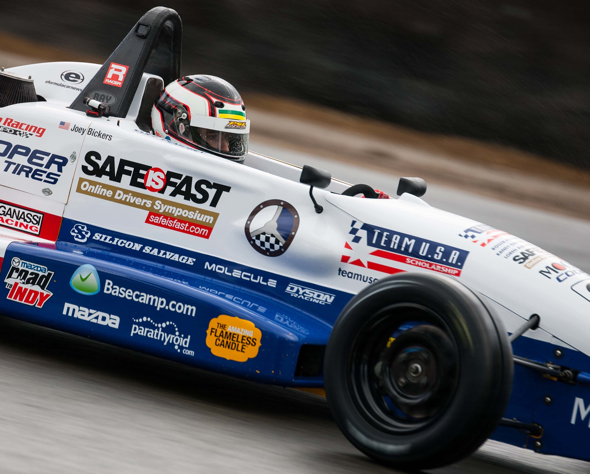 "I think Joey has a very bright future ahead of him," says Jeremy Shaw, the Team USA Scholarship founder and noted motorsports journalist." He was certainly one of the underdogs for this year's Team USA Scholarship but was extremely impressive in the shootout, especially given his relative lack of experience. In particular, he was extremely quick on his out-laps which is usually indicative of true natural ability, and he took in everything like sponge. He is naturally quiet but served an excellent spokesman for the Team USA program when he was in England and came across well as an ambassador for his country."
Although the results from the races in the UK may not have been what Bickers hoped for, it did give him his first exposure to both racing in the wet and standing starts and he passed a lot of cars during four races in one day during the Walter Hayes trophy. Even better, it gave him a good education for the Mazda Club Racer Shootout.
"Going through the Team USA Scholarship shootout really prepared me, because there are certain similar challenges to face. So I wasn't completely new to some of the challenges at the Mazda Shootout," he says.
The first step in the Mazda Club Racer Shootout is a business proposal. Each candidate must figure out how he would present his case to a potential sponsor. The creators of the judges' five favorite proposals are then invited to the Shootout at Buttonwillow Raceway Park in California, where all drive the same MX-5 Cup car. They are rated not only on their driving ability, but the presentation of their business proposals and their technical knowledge and feedback. In the end it was close, says head judge and accomplished Mazda racer Charles Espenlaub.
"It's not super-clear-cut," explains Espenlaub. "It's margins and details and little specifics. Joey impressed us more so than the other participants due to the fact that he's really showing a lot of talent for not much time in racing. I think he had the least amount of experience of all, and yet had the maturity and discipline to move forward."
His selection as the shootout winner and recipient of the $75,000 scholarship mean that Bickers knows in which series he'll be competing next year. He doesn't yet know for which team, however, and he's in the process of figuring that out. But he does know he's now part of the Mazda family.
"It means I'll be starting a longstanding relationship with Mazda. I saw at the Shootout by meeting everyone and seeing how everyone works and how we work together, I think Mazda and myself will be a good pair. I think next season I'll learn a lot. I'm excited to give my best effort in my rookie season in Playboy Mazda MX-5 Cup," Bickers says.