"It's kind of a black art, getting into professional racing; nobody really seems to have a for-sure answer for what to do and how to make a name for yourself. This is another way for us to do that," says Adam Poland, winner of the Teen Mazda Challenge championship in Texas.
The 22-year old from Mt. Vernon, Texas, is currently a student at the Carroll Shelby Automotive Technology Program at Northeast Texas Community College. But what he really wants to do is race, and he saw the Teen Mazda Challenge as a route to professional motorsports. The Teen Mazda Challenge is a series within NASA Spec Miata, with championships on the West Coast, Colorado and Texas, for drivers between 13 and 22 years old. It is one of the championships that affords winners the opportunity to compete in the Mazda Club Racer Shootout.
Poland didn't make it to the final round of the Club Racer Shootout, but he still has high hopes for his future.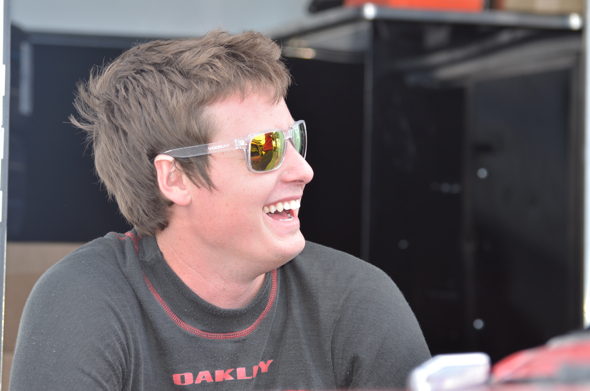 "One door closes and another one opens," he says. "Right now I'm trying to put together financials, trying to get into Pirelli World Challenge. I'd really like to run a Mazda MX-5 in the Touring Car class. I've also considered trying to get financials together for a Continental Series MX-5 in the ST class."
Poland won the Texas Teen Mazda Challenge with nine victories, including a couple of out-of-region events at Heartland Park Topeka. He didn't win every race he entered, but only the best nine count toward the championship, and he finished almost 100 points ahead of second place, Timothy Reger.
He just missed winning the Texas region Spec Miata championship to Trevor McCallion. "I went into the final event five points ahead. Unfortunately, the last race was at his home track, Eagle's Canyon Raceway. He knows the place like the back of his hand," Poland says.
The Teen Mazda Challenge championship is the latest step in Poland's journey, which began with attending a high performance driving event with a friend whose father owned the company putting on the event. "My instructor told me I had a natural ability to drive a car. At first I was kind of clueless and thought he didn't know what he was talking about. I did this multiple times, and every instructor I had said I had talent and I should consider going club racing," Poland says.
"At the time I had a Porsche 944 Turbo and was going to enter the Super Unlimited class, but people told me Spec Miata was the way to go. After wasting thousands of dollars into this Porsche, I ended up trying Spec Miata and buying one. I began racing Spec Miata because it's an inexpensive class and it's very competitive. I love the huge fields we have here in Texas region. It gives you a sense of what professional racing is like."
If Poland's professional career doesn't take off next season like he hopes, he has other possibilities in mind. One is creating a racing academy through the Carroll Shelby Automotive Technology Program that would help train those interested in the crew side of the sport. However, World Challenge is his first goal, and especially further developing the MX-5 for the series.