It's hard to imagine a racer having the kind of season that Matthew Brabham had in the 2013 Pro Mazda Championship. There have been few racing seasons in any series where the word "dominant" applied so readily. Brabham had 13 total wins, including a seven-race win streak that started in the second race of the season at Circuit of the Americas. Another win streak started after a bad weekend at Mosport and lasted six races to the end of the season.
It was enough to clinch the title with two races left and handily win the team championship for Andretti Autosport. Granted, the Pro Mazda field was a little thinner than it might have been had the series not faced such uncertainty as it did during the offseason when Gary Rodrigues shut it down and Andersen Promotions picked it up. However, Brabham still faced formidable competition in young racers such as Diego Ferreira, Shelby Blackstock and Spencer Pigot.
"It was kind of weird, I guess," says Brabham. "It has been absolutely wonderful year and it couldn't have gone any better. I definitely didn't see it playing out the way it did. Coming out of last year, I was very confident after winning the [US F2000] Championship and was looking forward to this year. But I had no expectations. We had those first couple of races that went really well, and straight after we started having some really good success. It just kind of snowballed throughout the year."
Brabham had some rough spots, of course, including that weekend at Mosport. But there were some lucky moments as well, such as at Mid-Ohio when Ferreira ran off in oil under yellow, handing the lead to Brabham. But it was perhaps the off-season turmoil that actually led to some of his success. When Andersen Promotions picked up the series, he chose longtime partner Cooper Tires to be the spec tire for the series rather than the Goodyears that the Pro Mazdas had been racing on.
"We were able to get some really good testing on the Cooper Tires, and we were able to learn the tire before anybody else did," Brabham explains. "Once the championship started, everybody was kind of scrambling to learn the new tire when we already understood how it worked and how it behaved at different tracks. Throughout the whole year, we were always one step ahead, planning ahead and making predictions, while everybody else was waiting for the situation before they started changing things around."
Brabham also cites a good working relationship with engineer Yancy Diotalevi as one of the things that helped the team excel.
Brabham brings three generations of experience with him, though. His father, Geoff, raced CART Indy cars and sports cars, where he won four IMSA GTP titles and the 1993 24 Hours of Le Mans. Matthew's grandfather is Sir Jack Brabham, three-time Formula 1 World Champion and founder of Motor Racing Developments Ltd. With Ron Tauranac. For some young drivers, that kind of family history might put a lot of pressure to perform. Matthew sees it as an asset.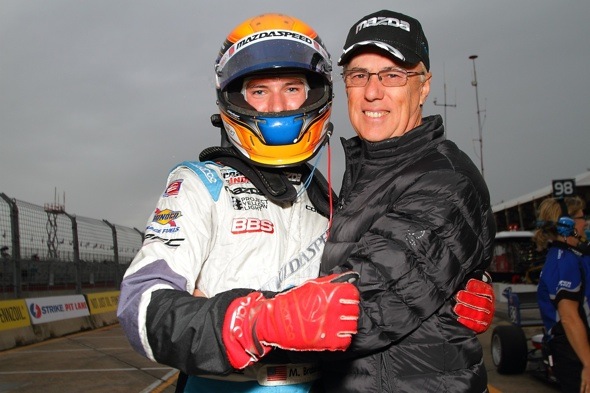 "They've been there and done it all before," he says. "My dad raced, my uncles raced, my grandfather raced and my mother raced jet skis. They all know the business and how motor racing works so well. It's definitely a big advantage to have them around. The off-track stuff and how to manage myself mentally, all that stuff they're really good with." Matthew admits that when his father gives him advice, he sometimes has to remind himself that his father was a racing champion as well.
Brabham's next step is Indy Lights, thanks in large part to the Mazda scholarship for winning the Pro Mazda Championship. At one of the first races he saw after he came to the U.S., the Grand Prix of St. Petersburg, he was immediately impressed with the Indy Lights and now relishes the chance to drive one.
"They looked so fast, really quick and looked cool," he says. "From that point, standing on the sidelines, to being able to drive one in a full season in only a couple of years, being in the series right below IndyCar, is really cool."