As I was trying to write this blog entry to introduce myself and outline my career and my relationship with Mazda, I got stuck with a blank page for a couple of days. I really didn't want to start out with the cliché: "Hi, my name is Peter Portante," although I suppose I just did.
I had my first hands-on experience with racing at the age of 7 in oval karts. Eventually, my parents would rename my beloved sport, "The gift that keeps on taking!" Through some stroke of luck I actually showed a speck of talent and became the most successful driver in the series history. I continued my way up the "oval ladder." I ended up racing cars such as legends, Allison Legacy and Late Models. It was just last year that I had my first experience with racing on a road course. I went about it in the smartest way I could and ran the Skip Barber Racing Series.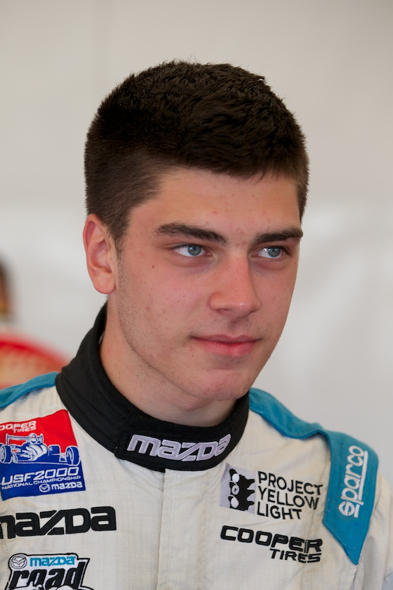 It has been a very steep learning curve for me. I selfishly had become very used to success because I had always won at least one championship every year that I competed. My struggles in the first two years of road racing have been very character building. The first year in Skip Barber, I made tremendous strides thanks to the great people that surrounded me – the instructors, coaches, mechanics and competitors. I went from being six seconds off in the first race to finishing the season with three wins, eight podiums and a book full of knowledge on how to improve and correct mistakes.
With my momentum in full swing I was able to capture the Skip Barber Championship Shootout, which won me a scholarship from MAZDASPEED for the 2013 Cooper Tires USF2000 Championship Powered by Mazda. No one expected me to win, but I knew I could and, in true Mazda fashion, I did. I worked day and night and thankfully it all paid off.
The next challenge would be USF2000 itself. Racing in a pro series in my second year of competition has been a very difficult road. But I have also been put in a fantastic situation by being part of a great family such as Belardi Auto Racing. I have some of the most knowledgeable people in the business helping me, people who also believe in me. I also have a teammate, whom I consider to be one of my biggest competitors in the field, to push me and force me to improve. With all the tools around me, I am becoming better and better every day. I'm gaining momentum each race, and recently became the youngest SCCA Formula Continental Champion at the Runoffs in my first try.
Now it's time to end the season at Houston. It's time to put everything together. Time to stop being overlooked and keep improving until I become the driver I know I can and will become. My name is Peter Portante, and I am a MAZDASPEED Driver.