It's no secret that some tracks favor certain cars and drivers, and vice-versa. Some circuits are handling tracks, some are horsepower tracks, and some have elements of both. Sometimes a team will hit a sweet spot at a particular racetrack and find something that no one else has. Still, to finish one-two at a given track for three years running is an impressive feat.
That's exactly what Freedom Autosport has done, with it's third consecutive one-two finish in the Street Touring class of the Continental Tire Sports Car Challenge. The fact that the team campaigns a squad of MX-5s and those three one-two victories came at Mazda Raceway Laguna Seca make it all the sweeter.
The last one was during the Continental Tires Sports Car Festival powered by Mazda on Sept. 8.
"It's very humbling, actually," said Glenn Long, owner of Freedom Autosport. "We worked very hard at that track. There is just something about it that's magical for us. It's the perfect combination of cornering, low-speed to high-speed sweepers, it just suits our cars so well. We're just very fortunate to have drivers that can really maximize what the cars do."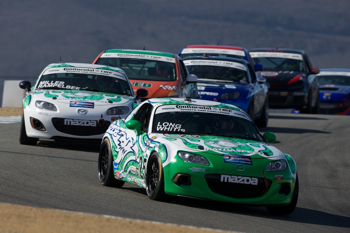 Freedom Autosport qualified in the top two positions as well, with Derek Whitis and Tom Long in the No. 25 Marsoc Foundation/semperfifund.org MX-5 starting up front and the No. 27 of Joel Miller and Brad Rampelberg in second. The Freedom Autosport cars were at the head of the field for most of the race, and still running one-two when it came down to the final restart, with the No. 25 up front and the No. 26 of Rhett O'Doski and Andrew Carbonell in second. But Carbonell got bogged down by a Grand Sport-class car and was shuffled back to fourth with only two laps left. That was the beginning of an amazing drive that saw Carbonell not only regain the lost positions, but take over the top spot on the final lap as well.
"In the drivers' meeting, we had talked about the distance between the ST leaders and the trail of the GS field on restarts, and the sanctioning body asked that we give five to eight car lengths," Long explained. We said it wasn't going to work. 'No, no, no…it will be fine. Trust us,' they said. Well, as we saw on that last restart, it wasn't so fine. Andrew went from second to fourth or fifth and had to battle his way up and through. It was pretty impressive. Carbonell is absolutely amazing and Tom [Long] did a good job of being his wingman."
The victory also put Carbonell and Rhett O'Doski into fourth place in the drivers' standings. The Continental Tire Sports Car Challenge wraps up its season at Lime Rock Park on Sept. 27-28.