The 2013 National Auto Sport Association (N.A.S.A.) Championships Presented by Toyo Tires took place Sept. 5-8 at Miller Motorsports Park, and five Mazda racers left Tooele, Utah, with championship titles.
Dennis Holloway has been racing in N.A.S.A. for several years; as it turns out, this was his year to win the Performance Touring C class in his RX-8.
"Normally I don't get this lucky," he said. "I have been chasing a championship win for a number of years. My car was really good in the corners."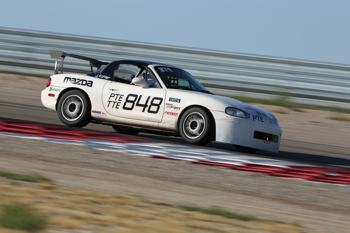 In the same group, Walter Carlos took the Performance Touring F victory in a Miata, and Jason Kohler won Performance Touring E in his Miata – a bit to his surprise.
"It was an amazing race. I started back in fourth and had some amazing battles with Andrew Kidd and Tim Reger. I got by them and thought I was in second, but it ended up I was in first. I had a good car in the infield and I was able to get a good draft down the long front straight to keep my speed up," Kohler said.
While it was guaranteed that the winner of Spec Miata would be driving a Mazda, that didn't lessen the spectacle of the race. Ken Sutherland led the 30-car field to the green, but he was pursued by an 11-car train led by Sean Headrick, Tyler Vance and 2010 SM winner Dan McKeever. One mistake and he was going to drop down the order quickly, and that's exactly what happened when he was relegated to fifth on the fourth lap.
Matt Schultz claimed the lead on lap five, and managed to pull out a small gap on the field around the long Miller Motorsports Park course. He finished in front, followed by Kyle Loustaunau and Trevor McCallion.
"After our warm up this morning, I made a few changes to the car and really nailed it." Schultz said. "I thought I might have something, but I was starting sixth, so I wasn't sure.
"I was aggressive at the start and tried to get to the front as fast as I could and it worked out. I was able to get in clean air, my engine ran cool and I kept the water temps down and had good power. The Miata handled great. The MAZDASPEED suspension package really handles well once you get it set up. I really appreciate the support from Mazda, it really helps out."
In addition to the wheel-to-wheel racing, N.A.S.A. features Time Trials at its championship event. Sonny Watanasirisuk posted the fastest time in TTD in a Miata and Jason Kohler added the TTE title to his PTF championship.
N.A.S.A.'s next big event is the 25 Hours of Thunderhill endurance race on Dec. 7-8 at Thunderhill Raceway Park near Willows, Calif.